Adapt This: "27" by Charles Soule and Renzo Podesta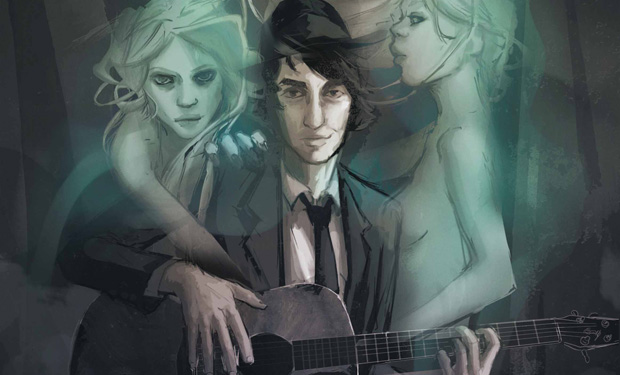 Posted by Rick Marshall on
With Hollywood turning more of its attention to the world of graphic novels for inspiration, I'll cast the spotlight on a new comic book each week that has the potential to pack a theater or keep you glued to your television screens. At the end of some "Adapt This" columns, you'll also find thoughts from various comic creators and other industry experts about the books they'd like to see make the jump from page to screen.
---
This Week's Book: "27" by Charles Soule and Renzo Podesta
The Premise: A popular rock star suffering from a medical condition that could end his career meets a mysterious scientist who offers him a cure. When things go wrong with the experiment, the musician suddenly finds himself saddled with a mysterious device that grants him unpredictable powers and the attention of supernatural forces connected to the "27 Club" — that famous group of artists (Jim Morrison, Jimi Hendrix, Kurt Cobain, etc.) who all died at age 27.
The Pitch: It's easy to see the appeal of a story that would feature a lead actor who can pass for a rock star and a cast of actors playing some of music's most famous gone-too-soon artists. Just imagine the buzz that will precede (and follow) every casting decision, with the media debating who should play Jim Morrison or Janis Joplin or any of the other members of the infamous "27 Club," and an adaptation of this 2010 series seems silly not to make.
In the series, guitarist and songwriter Will Garland agrees to a strange procedure administered by an even stranger "doctor" after trying every other possibly way to heal his crippled hand. Things don't go as planned, though, and Will ends up with a strange machine embedded in his chest that gives him superhuman abilities. He also finds himself caught up in a struggle between supernatural entities looking to add him to the long list of brilliant, 27-year-old artists who died at their creative peaks.
The first volume of 27 is an origin story of sorts, introducing the main character and setting up both the situation that gives him his weird powers and the constraints of those abilities. It's a story that would work well as a standalone film, but could also be easily set up as a potential two- or three-part franchise.
The role of Will Garland offers a nice opportunity to bring in a talented young actor capable of wrangling the young, female audience, while the right choices for some of the famous musicians that make cameos in the book — to offer Will advice or help him with his newfound powers — should make the film more than just the typical young-adult fare.
Of course, it's worth noting that with some clever handling of the narrative, 27 could also work out well as a television series, with certain members of the "27 Club" becoming recurring characters. This would definitely require some tweaking of the original story and its pacing, but it's not too far of a leap.
There's also a unique opportunity to make music an active ingredient in a 27 adaptation and feature songs "written" by Will, as well as songs connected to his real-world and supernatural social circles.
The Closing Argument: Handsome rock star as a lead character? Check. Actors portraying famous celebrities idolized by millions? Check. A healthy dose of ghosts and supernatural mystery? Check.
When it comes down to it, there's very little about 27 that doesn't scream seat-filling movie (or couch-crowding television series, for that matter). As with all adaptations, proper handling of the source material and script will probably be the deciding factor on the project's success, but there's a lot of potential here for a cool, genre-crossing adventure with a lot of material that will catch the public's attention and keep them intrigued right up until it arrives on the big (or small) screen.
---
Would "27" make a good movie or television series? Chime in below or on Facebook or Twitter.