The 25 best animal attacks in movie history (with video)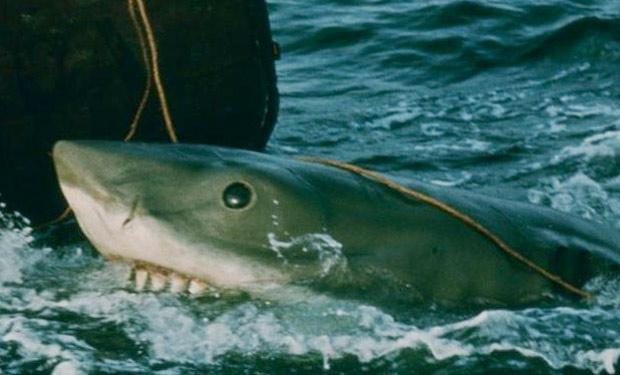 Posted by Bryan Enk on
"Shakma" (1990)
"Dear lord. . . more simians." That's what "Planet of the Apes" star Roddy McDowall must've thought (along with "Well, at least I can afford to remodel the garage now") when he signed on to star in this silly shocker in which a murderous baboon stalks the research facility that had once been its prison, killing off security guards and eventually going after a group of teenagers who are playing a sort of mix of Dungeons and Dragons and murder mystery dinner theatre. Pretty stupid as these things go, but at least it gives it the old college try — and really, the movie can't help but score some points with both a title like that and a ridiculously redundant tagline ("The world's most aggressive primate just got mad"). Christopher Atkins co-stars, leaving the nudity to the monkey as he dons a more extensive wardrobe than he did in "The Blue Lagoon."
---
"The Swarm" (1978)
Irwin Allen, the "Master of Disaster" behind "The Poseidon Adventure" and "The Towering Inferno," conjured up a bunch of killer insects for this often hilarious Bee-movie (ha!) in which an all-star cast — including Michael Caine, Katharine Ross, Richard Widmark, Richard Chamberlain, Olivia de Havilland, Ben Johnson, Lee Grant, Patty Duke, Slim Pickens, Fred MacMurray and even Henry Fonda (whew!) — tries really hard not to get stung as a lot of angry bees start buzzing around a small Texas town. Dumb stuff, but you can't beat that "Cannonball Run"-style line-up; the film even managed to score an Oscar nomination for — of all things — Best Costume Design (hey, all those stars have to look good as they run, scream and swat at the damn things). Caine has said that this is the worst film he's ever made, but he's said that about a lot of his movies; also, check out de Havilland's now-notorious moan at about 3:10 in the clip. The children!
---
"Tentacles" (1977)
Before he took on the killer bees of "The Swarm," Henry Fonda was part of this horror film co-starring John Huston and Shelley Winters (huh?) in which a great white shark — er, sorry, a giant octopus — threatens to scare away the 10,000 tourists that make their way to Ocean Beach every summer. It's actually all Fonda's fault, as his company's excavation of an underwater tunnel has inspired the beast to go on a man-eating (or at least man-squeezing) rampage; Huston eventually fights nature with nature by unleashing a bunch of killer whales on the horrible creature. You know you'd do the same thing.
---
"Them!" (1954)
"Them!" (fantastic title, you must admit) is one of the first "nuclear monster" movies and probably the first "big bug" film. Our fear of nuclear war manifests itself in the form of giant insects looking to make a meal out of the residents of a small Southwestern town; meanwhile, scientists try to figure out how to solve this little (big) problem whilst musing on the morality of the bomb tests that caused the whole mess in the first place. "Them!" is a decadent cinematic picnic lunch of silly dialogue, sillier acting and neat-o old-school (really old-school) special effects (which were nominated for an Oscar) — sit down and dig in, puny human.
---
"Wolfen" (1981)
A nifty New York fable based on a novel by Whitley Strieber (written before he gained international notoriety by claiming he was abducted by aliens), "Wolfen" spotlights a Native American legend about an advanced species of wolf that just so happens to be right above man on the food chain — and that's starting to get a little fed up with all this "industrial revolution" stuff, particularly around Battery Park. Albert Finney plays the detective on the case of a recent series of animal attacks, which becomes quite the eye-opening endeavor for a jaded New Yorker who thinks he's seen it all (especially when the beasts start crashing through panes of glass!). "Wolfen" is one of the earliest films to use a stylized visual effect to portray the subjective POV of a non-human character (making a sex scene between Finney and Diane Venora a rather unnerving sight); the technique was later adapted and expanded for "Predator."
---
What's your favorite animal attack moment? Tell us in the comments below or on Facebook and Twitter.