The 25 best animal attacks in movie history (with video)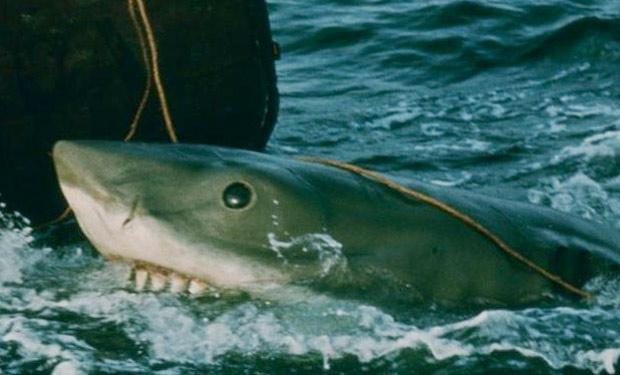 Posted by Bryan Enk on
"Mega Shark vs. Giant Octopus" (2009)
Just sit down, nervous airplane passenger dude, you'll make it to your wedding tomorrow. . . that is, unless a fish the size of Ohio leaps out of the ocean and bites us out of the sky. Now there's a romantic tragedy that for some reason completely eluded Shakespeare — good thing we now have "Mega Shark vs. Giant Octopus" to fill the creative void. Warning: this video clip is the viewing equivalent of a Lays potato chip — no one can watch it just one time. Dear lord, someone made this movie.
---
"Monkey Shines" (1988)
Another classy B-movie from classy horror maestro George Romero, "Monkey Shines" tells the touching (at least for a while) tale of a recent quadriplegic (Jason Beghe) whose life is given hope and meaning again when he meets Ella, a genetically altered monkey who moves in with him and becomes both his assistant and best friend. Ella's been injected with human brain tissue, which gives her heightened intelligence — and, unfortunately, rather extreme emotions, as evidenced by the murderous jealousy she feels once her master starts going down on a pretty lady specialist and monkey expert (Kate McNeil). Lots of nasty fun to be had here, with some truly gruesome death scenes (apparently, with heightened intelligence also comes a macabre imagination); Ella's vocal effects come courtesy of — you guessed it — Frank Welker.
---
"Monty Python and the Holy Grail" (1975)
Behold what is without a doubt the most terrifying beast in the history of cinema, now and forever. This monster's ruthlessness knows no bounds and its appetite has no limits. Some people fear sharks and bears and rat-bat-pigs; those monsters are but trifles compared to the hairy demon with nasty, big, pointy teeth that lurks in the Cave of Caerbannog. Thank God and his mighty beard for the Holy Hand Grenade of Antioch, the only weapon that can defeat such unholy evil. Horrible!
---
"Night of the Lepus" (1972)
"How many eyes does horror have? How many times will terror strike?" MGM renamed this film from its original title, "Rabbits," and avoided including the animals in most promotional materials to try to keep the mutant creatures a secret (except from the one or two people who knew what "lepus" means); however, the studio itself let the rabbit out of the hat by handing out rabbit's feet as promotional materials before the release. The fabled luck such items are supposed to bring didn't work on the film, as it was widely panned for being, well, stupid — 40 years later, we can now recognize this creature feature as the work of art it actually is. Based on William F. Claxton's 1964 science fiction novel "The Year of the Angry Rabbit," a title that implies these little devils wrecked havoc for at least 365 long, blood-soaked days.
---
"Piranha" (1978)
2010's Piranha 3D blew this premise out of the water (literally), but the original "Piranha" is not without its low-budget charms — and its share of amusing kill scenes. Consider this to be director Joe Dante's warm-up (or hose-down) to the classic that would be "Gremlins" as hapless teenagers and future Dante regulars (such as Kevin McCarthy as Dr. Robert Hoak, lead scientist of a defunct Vietnam War project that's to blame for this mess) do battle in the water (and sometimes out of it) with the ravenous fishies with really sharp teeth (and insatiable appetites for human flesh). Dante gets the most out of his non-budget, making this a much more successful B-movie than James Cameron's even more absurd and perhaps too-ambitious follow-up, "Piranha II: The Spawning." Written by John Sayles, who would go on to pen Dante's next clever genre film, "The Howling."