The 25 best animal attacks in movie history (with video)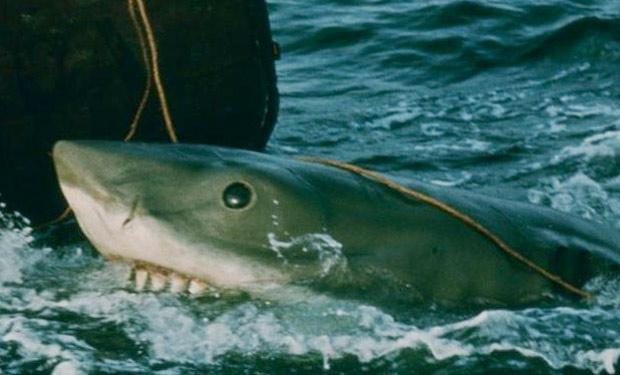 Posted by Bryan Enk on
"The Food of the Gods" (1976)
More H.G. Wells in pretty much name only (or at least half-a-name, as the source story is called "The Food of the Gods and How It Came to Earth"), "The Food of the Gods" reduces Wells' complex and subversive sci-fi tale to an 'Ecology Strikes Back' scenario in which a bunch of mysterious bubblin' crud turns a bunch of critters into rampaging beasts that proceed to kill off the inhabitants of a remote island. Directed by monster master Bert I. Gordon, but his heart doesn't seem to be in this one, despite a few clever (and gory) set pieces; this film also has the distinct honor of winning the Golden Turkey Award for Worst Rodent Movie of All Time. You mean the truly wretched "Graveyard Shift" is officially the "better" movie. . .?
---
"Graveyard Shift" (1990)
Okay, maybe "wretched" is too harsh a term to describe this cheap Stephen King quickie about a bunch of textile mill workers being killed off one by one by a rat-bat-pig mutant-thing (can you think of a better way to describe it?). Brad Dourif is, as always, a joy to watch, here playing a wacko exterminator with at least one monologue's worth of harrowing Vietnam stories; Stephen Macht's truly bizarre performance as the sadistic foreman makes for quite the cinematic oddity as well. It's a Coke can that ultimately saves the day before finally cutting to the closing credits, which are set to a strange ditty mixed to bite-sized snippets of the film's dialogue ("What's YOUR problem, boy?"). Weird.
---
"Grizzly" (1976)
Oh come on, "Grizzly" (aka "Killer Grizzly," which sounds cooler but might ultimately be redundant in the context of a horror film) is nothing like "Jaws." Just because it features a rather large animal preying upon hapless tourists — one of which is played by Susan Backlinie, the skinny-dipper given the honor of being the first victim in "Jaws" — doesn't mean it's anything like Steven Spielberg's summer blockbuster. Really, how can you say a movie in which a skilled yet inexperienced Chief Ranger teams up with a nerdy naturalist and a gruff forest guide to hunt down the beast after a naive authority figure refuses to close the recreation area where the attacks have taken place is anything like "Jaws?" You don't see any damn ocean in this movie, do you? Just sit back and watch nature take its course.
---
"Jaws" (1975)
See above, except replace "Chief Ranger" with "Police Chief," "naturalist" with "marine biologist" and "forest guide" with "shark hunter." Oh, and throw "a thousand times better than most movies ever" somewhere in there, too.
---
"Man's Best Friend" (1993)
Lance Henriksen has been experimenting on canines, makin' 'em super-smart and super-strong (and super-angry!); one of them (named Max, 'cause he's a maximum kind of pooch) escapes and befriends animal lover Ally Sheedy, though she starts suspecting that something might be amiss after her new doggie buddy starts climbing trees and swallowing cats whole. Made back when "direct to video" just wasn't as common an option as it is today, "Man's Best Friend" might very well be the best-ever movie about a genetically altered Tibetan Mastiff starring the goth chick from "The Breakfast Club" and Bishop from "Aliens." Max's vocal effects were provided by Frank Welker, who knows a thing or two about dog-speak after making similar noises for "Cujo" ten years earlier.