The 25 best animal attacks in movie history (with video)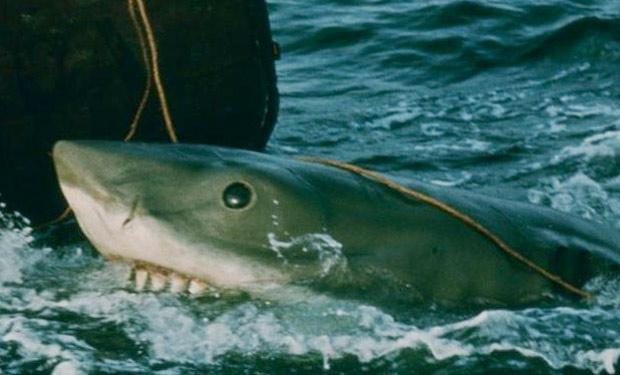 Posted by Bryan Enk on
"Cujo" (1983)
One of the most crass and tasteless of Stephen King adaptations (perhaps second only to the wretched "Pet Sematary"), "Cujo" turns a rabies-stricken St. Bernard into "the dog from hell" that traps a young mother (Dee Wallace) and her four-year-old son (Danny Pintauro) in a Ford Pinto with a dead battery. King's almost sociopathic repulsion toward illness is on full display here, and in the most depressing way possible; still, the doggie they got to play Cujo is a good sport for having all that "I've gone crazy!" dirt and blood smeared all over his snout, obliging his off-camera trainer as he attempts to gain entry to the car via the sheet force of his barks (courtesy of voiceover god Frank Welker) and slobber. Directed by Lewis Teague, who probably got the gig based on his stellar work on another animal attack flick, "Alligator."
---
"Deep Blue Sea" (1999)
Really, all contrived inspirational speeches should be interrupted by a giant shark expressing its thoughts on the concept of "rallying and sticking together" by taking a massive chomp out of the speaker. If you were lucky enough to see "Deep Blue Sea" in a movie theater during the summer of 1999, you were part of one of the all-time greatest examples of the one-of-a-kind synergy between film and audience; no one knew just what in the hell happened in this movie for the five-or-so minutes following Samuel L. Jackson's amazing death scene due to the rousing session of incredulous laughter that it inspired. You can watch the entire film on Netflix Streaming (and in glorious HD, at that), though this is the one scene that demands repeat viewings.
---
"The Edge" (1997)
Mercutio from Baz Luhrmann's "Romeo + Juliet" comes to another brutal end in David Mamet's manly adventure fable in which the sexual rivalry between billionaire Charles Morse (Anthony Hopkins) and fashion photographer Bob Green (Alec Baldwin) becomes manifested in the form of a giant grizzly looking to make their impromptu survival session in the Alaskan wilderness a lot more dangerous and challenging. Performed by the ever-great Bart the Bear, the monster here first strikes under cover of darkness, snatching poor Harold Perrineau Jr. from his tent and making a midnight snack out of him. Perrineau's cries of fear/pain are especially harrowing here — and he doesn't even get to exclaim, "A plague o' both your houses!"
---
"Eight Legged Freaks" (2002)
"Arachnophobia" on poppers, "Eight Legged Freaks" (originally titled "Arac Attack," but that sounds a little too close to you-know-what, especially back in 2002) chronicles the invasion of Prosperity, Arizona by spiders who have grown to monstrous sizes thanks to being exposed to toxic waste; at least the townsfolk now know that it isn't space aliens that've been snatching all the dogs and cats. Director Ellory Elkayem struggles to give homage to the silly creature features of yesteryear but never once manages to find the right tone; casting a more traditional "straight man" in the lead role rather than a goofball like David Arquette might've been a good place to start. Still, this is good for some creepy-crawly moments, albeit on a much (much) more outrageous level than its humbler (and better) 1990 predecessor. We wonder how Scarlett Johansson feels about having this on her resume. . .
---
"Empire of the Ants" (1977)
Based on the 1905 H.G. Wells in name (and basic premise) only, "Empire of the Ants" features land developer Joan Collins and other humans fleeing their heavenly paradise when toxic waste turns ants into giant man-eating insects determined to eradicate mankind and turn the planet into one big ant colony. As with most of the films of director/showman Bert I. Gordon, the clever special effects are the highlight here, with Gordon and his team coming up with innovative ways to mix footage of real ants with rear projection and still photography. Puppetry is also used every now and then, as the occasional giant ant leg will suddenly swing into frame and take a swipe at Collins; the actress later admitted that she didn't like making this movie very much.