The 25 best animal attacks in movie history (with video)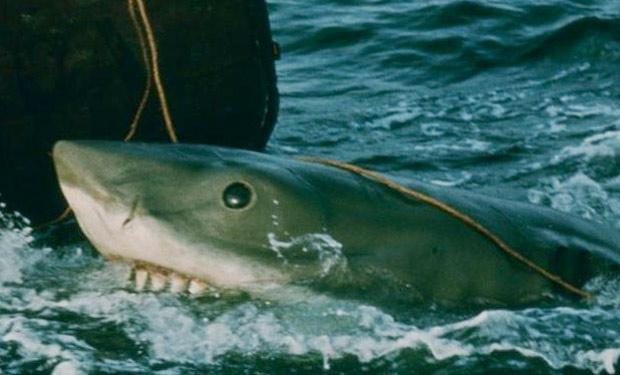 Posted by Bryan Enk on
Nature doesn't always win, but it can sure put up a pretty good fight. Check out some of the best (or at least somewhat memorable) cinematic examples of beasts getting the better of man, from classic creature features like "Them!" to summer blockbusters like "Jaws" to uproarious B-movies like "Birdemic: Shock and Terror."
---
"Alligator" (1980)
Perhaps the most harrowing (and ridiculous) scene in this crafty little horror comedy features a bunch of youngsters dressed up like pirates for Halloween forcing one of their pals to "walk the plank" of their swimming pool, wherein lurks the giant creature that has since burst forth from the Chicago sewers. The size of the monster constantly changes throughout this amusing creature feature, depending on the needs of the scene at hand; in this case, he's small enough to not be noticed as he lurks about in the deep end, waiting for a kid-sized snack to drop in. "Jaws" kept people out of the ocean; "Alligator" had people thinking twice before they went for a night swim in their own backyard.
---
"Arachnophobia" (1990)
A movie that will make you sit n' squirm even if you like spiders (and if you do, did your mom drop you on your head when you were a baby or something?), "Arachnophobia" chronicles the invasion of a newly discovered breed of Venezuelan spider with venom that causes near-instantaneous death to its victims, leaving an entomologist (Jeff Daniels) and an eccentric exterminator (John Goodman, channeling Bill Murray's groundhog-hunting groundskeeper in Caddyshack) as small-town America's last hope. Relatively low-key as these kinds of creature features go, but it still has its share of creepy-crawly moments that will have you gritting your teeth and maybe even covering your eyes — like this particularly infamous bathroom scene. Horrible!
---
"The Beyond" (1981)
Lucio Fulci's mad-dog crazy (well, no more so than usual) horror opus is basically a collection of gore-filled murder sequences — sorry, totally awesome gore-filled murder sequences. It's hard to pick what might be the "best" of the lot in The Beyond (the second film in Fulci's unofficial "Gates of Hell" trilogy, between "City of the Living Dead" and "The House by the Cemetery"), though the most outrageous is definitely the one featuring some poor bastard getting eaten alive by. . . tarantulas. For, like, a really, really long time. As with pretty much any scene in pretty much any Fulci movie, it's best if you just kind of throw your hands up in the air and yell, "Wheeeeee!!"
---
"Birdemic: Shock and Terror" (2008)
Writer-director James Nguyen's pro-entrepreneurial romantic eco-thriller chronicles the blossoming love affair between software engineer Rod (Alan Bagh) and fashion model Nathalie (Whitney Moore) as they flip the bird to the recession with their youth and success. Uh oh… did someone mention "bird?" Wouldn't you know it, the morning after Rod and Nathalie finally get physical (her in Victoria's Secret underwear, him completely clothed, and the clock at 47 freakin' minutes in), a bunch of CGI birds (courtesy of an illegally downloaded and outdated version of After Effects, probably) suddenly descend upon the city, terrorizing the two lovers and the members of the "Supporting Casts" (as the opening credits call them) as they dive-bomb everything below like kamikaze pilots and explode on impact (yes, explode). Watch this right now.
---
"The Birds" (1963)
Alfred Hitchcock is such "The Master" that he was able to direct a flock of birds to flap around and peck at Tippi Hedren and company in what at least one critic has referred to as the director's "last flawless film." The quiet 'burg of Bodega Bay, California has become the target of a series of sudden and unexplained ('cause it's cooler not to know the why of it) attacks by some of our former fine feathered friends, though it could be argued that Hedren's goddess-like gorgeousness made them all go batshit (or is that birdshit?) insane; Hitchcock himself went on to become obsessed with the blonde beauty who reportedly never let him indulge his sexual desires. Brilliant in its sound design (which, every now and then, involves complete and total maddening silence), "The Birds" will have you anxiously looking to the skies (and playgrounds).