The "Wrath of the Titans" cast talks gods, moving past "Clash," and where the next film might go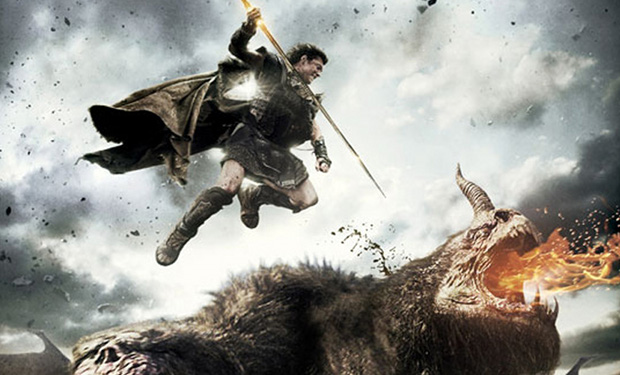 Posted by Rick Marshall on
Sam Worthington returns as Greek hero Perseus in this weekend's "Wrath of the Titans," a sequel to the 2010 remake of "Clash of the Titans." This time around, Perseus sets out to free his father, Zeus, from imprisonment at the hands of Hades, and prevent the massive titan Kronos from destroying the world.
Directed by Jonathan Liebesman, "Wrath of the Titans" faces a herculean task of its own: taking the franchise to the next level while overcoming the poor critical response to "Clash of the Titans" that almost doomed the sequel.
"What was most important to me was to maintain things I liked about the first movie," Liebesman told IFC. "I went on opening day to 'Clash of the Titans,' and I had my own feelings about it — but there were things I really liked."
"I thought Louis [Letterier] did an incredible job with the spectacle [in 'Clash of the Titans']," he explained. "It had a real massive, Hollywood spectacle to it, so that was important to maintain. What I wanted to add to that was a grittiness, so that I could ground that spectacle and try to make it as believable as possible, even though you're in a fantasy world."
For Liebesman, part of grounding the story was spending more time on the characters and their stories — including newcomer Agenor, the demigod son of Poseidon played by British actor Toby Kebbell. According to Kebbell, a character who started out as a sidekick for Perseus and occasional source of comic relief eventually grew into a bigger part of the "Titans" universe.
"What was originally written on the page was kind of a goofy character who spent his time saying inappropriate things at the wrong time, but me and Sam and Jonathan all agreed that we didn't want that cliche in the film," recalled Kebbell. "Sam wanted to make this big. He didn't want to do a sequel and just make it like any other film for a paycheck."
Along with the debut of Agenor, "Wrath of the Titans" also features an expanded role for two returning characters: Zeus and Hades. Played by Liam Neeson and Ralph Fiennes, respectively, the two gods and the talented actors portraying them provide some of the film's most memorable moments.
"I felt like [Zeus and Hades] were a little underused in the first movie," said Liebesman. "Those two guys, Liam and Ralph, have such a great relationship with each other. They're like brothers in real life. They're so close. I just wanted to embrace that and have them in the film as much as possible."
"There are a lot of scenes cut out with them, because I was just in love with those guys," he laughed. "I was making my own Liam and Ralph movie. I would love to do anything with those guys. They are such a great team. I'm surprised they haven't been in more movies together."
And if all goes well with "Wrath of the Titans," screenwriter Dan Mazeau says the "Titans" team has already begun discussing the next chapter of the franchise and where it could take Perseus and the Greek gods.
"It's never really explained in mythology how it went from this pantheon of Greek gods to essentially none of them — to them being gone," he explained. "That story of the fall of the gods hasn't been told, so having this canvas to play with, it allows us to tell that story. This is about a world in transition. It's a world going from a world of the gods to a world of men, so you're seeing a lot of these things that were such a big part of the world, the gods and the monsters, having their last hurrah."
"That was the overall idea when we started, and there is certainly more to tell," he continued. "Where the world leaves off, it's sort of an uncertain future, and mankind is going to have to chart its own course. I think there's definitely some interesting stories, and yes, we've had some conversations about that."
For Liebesman, however, it all starts with bringing to life a massive battle between the Greek gods and mythical creatures.
"That was the challenge that I wanted to give the team," he said. "Can we do what you guys did in 'Clash' and ground it in reality? The fun will be trying to make people say, 'Oh shit, this really looks like it could've happened!'"
"Wrath of the Titans" hits theaters March 30, and stars Sam Worthington, Liam Neeson, Ralph Fiennes, Edgar Ramirez, and Toby Kebbell. Keep an eye on IFC.com for more from the "Wrath of the Titans" press junket.