What to Watch on IFC: "Hostel and "Hostel II"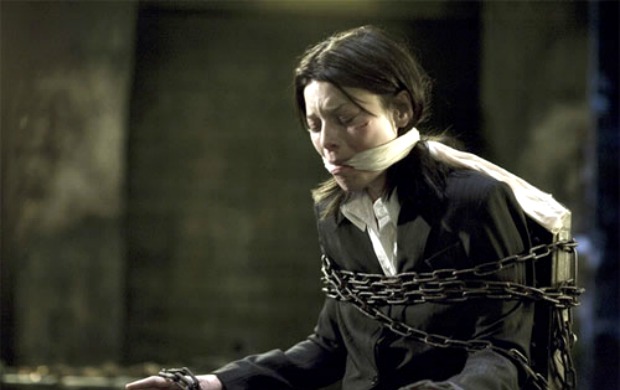 Posted by Melissa Locker on
Well, we're doing it again. We're scaring your pants right off of you. It's not like we enjoy seeing you in your underwear (we don't!) or anything, it's just that we like"Hostel" and "Hostel II" so darn much that we can't help showing them, even though we know it terrifies our beloved audience forcing them to hide out in blanket forts on their couches and constantly retrieve their pants from wherever they landed after the first sight of blood. Tune in tonight at 8/7c and don't worry, we won't judge.
If you haven't seen "Hostel" before, which starts at 8/7c, you're in for an unrelenting scare-fest from Eli Roth, the ever-so-slightly-twisted mind behind "Cabin Fever." It's about a pair of libidinous American backpackers seeking cheap thrills in the European countryside. It's during a visit to Amsterdam that the pair meets up with raucous Icelandic backpacker Oli (Eythor Gudjonsson), and head to a Slovakian city with a reputation for ladies. They end up at a local hostel …and, well, remember the name of the movie? There's a reason. Nothing like a torturous netherworld where the screams of the damned fill the air with dread and the warm rays of the sun are little more than a fading memory to make for a pretty lousy review in Lonely Planet guidebook.
The blackly comic sequel"Hostel 2," which starts at 10/9c , follows a similar story except now it's three women who suffer a horrific fate at the hands of some very unfriendly locals. Starring Lauren German, Bijou Phillips, and Heather Matarazzo (weiner dog!) as the unlucky Americans abroad, following their dreams into an unrelenting nightmare, including a scythe-wielding woman who maintains her youthful visage using the Elizabeth Bathory method, these unsuspecting students are about to fall into a trap that remains one of the sadistic and wealthy elite's most well-guarded secrets. Wait, where did your pants go?
"Hostel" airs tonight at 8/7c followed by "Hostel II" at 10/9c