Watch Zach Galifianakis on Comedy Bang! Bang!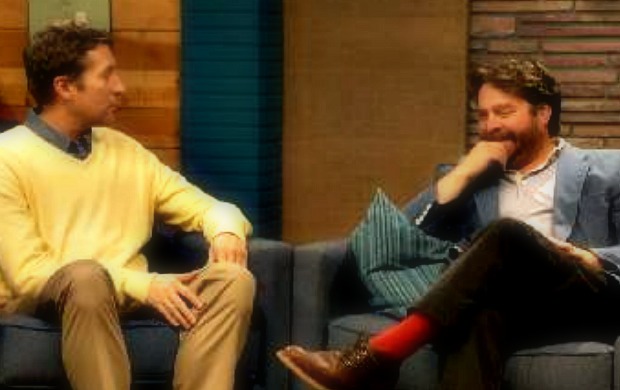 Posted by Melissa Locker on
What is it about dogs and our new shows? Yesterday we watched as Kurt Braunohler made the comedian contestants on his new show "Bunk" shame puppies for fun and absolutely no profit. Today, we have Zach Galifianakis sitting on Scott Aukerman's couch imagining what life would be like if dogs could talk in this new clip from "Comedy Bang! Bang!"
"Comedy Bang! Bang!" springs from the mind of Scott Aukerman, who you already know and love because he was a write/performer on "Mr. Show" and co-created and directed "Between Two Ferns" with Zach Galifianakis, and, hosted Comedy Death Ray right here on IFC. He is joined each week by one-man band, Reggie Watts (comedian/musician/artist/writer/performer as seen on Conan's Live tour and on TBS as well as his Comedy Central Special WHY $#!+ SO CRAZY), who is well known around these parts for his odes to Brooke Alvarez, "Portlandia," and "Malcolm in the Middle." Since this is a talk show, there will also be guests, which is crazy, right? And yet, each week, comedians and actors (and some who are both!) will grace the couch, including Adam Scott, Amy Poehler, PF Tompkins and more. We couldn't be more excited for this show to premiere in June.
Watch this new clip from the show and try to imagine what your dog would say about you:
video player loading
.
.
.
Comedy Bang! Bang! premieres on IFC on Friday, June 8 at 10/9c