The top 10 coolest supercomputers in movies (with video)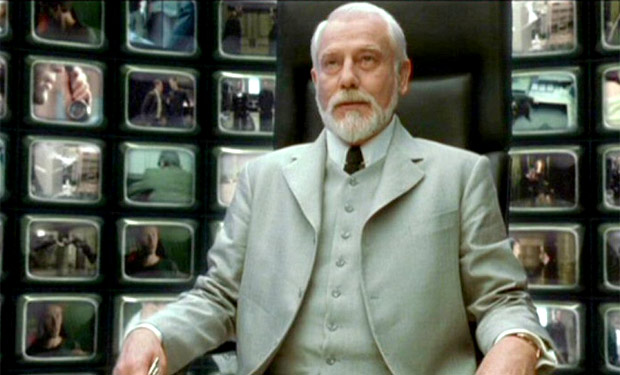 Posted by Bryan Enk on
Computers are smarter than us, so don't go messing around with them or telling them to open the pod bay doors. Here are some mighty machines from sci-fi movies that have forced us to examine our own humanity — and whether it's such a good idea to be advancing technology so damn quickly.
---
Alpha 60 in "Alphaville" (1965)
Jean-Luc Godard's hipper-than-thou New Wave sci-fi film has been nothing if not influential to other cool auteurs over the years with its tale of a faraway planet whose central city (that looks exactly like 1965 Paris) is ruled by the evil Professor von Braun (Howard Vernon), whose creation, Alpha 60, is a sentient computer (with a really creepy voice) that outlaws free thought and emotion, replacing them with dehumanizing and often contradictory concepts that keep everyone confused. . . and obedient. The interrogation scene between secret agent Lemmy Caution (Eddie Constantine) and Alpha 60 features the super-computer at its most sinister — even though, like every other scene in "Alphaville," you get the vague impression that we're not supposed to be taking any of this seriously.
---
Hal-9000 in "2001: A Space Odyssey" (1968)
Never send a super-computer to do a man's job, as "protocol" always gets in the way of improvising when the initial plan suddenly needs reevaluation. As much as HAL fills the "villain" role of this sci-fi masterpiece as the champion of the mission over the welfare of the crew, director Stanley Kubrick gives this smart machine a heavy dose of humanity when he dies a painfully slow death (as astronaut Dave Bowman shuts him down through a series of agonizingly long processes); indeed, HAL, like any self-aware being, is ultimately afraid to die — he even tries to comfort himself as he sings himself the lullaby of "Daisy Bell." HAL was reactivated for the sequel, "2010: The Year We Make Contact" — and, for the most part, behaved himself.
---
Bomb 20 in "Dark Star" (1974)
Take "2001: A Space Odyssey" mixed with Ray Bradbury's short story, "Kaleidoscope," throw in what was probably a hell of a lot of hashish and filter it through the minds of two film students named Dan O'Bannon and John Carpenter and you've got "Dark Star," the "spaced-out odyssey for the Strangelove Generation." The crew of the Dark Star is on a mission to destroy "unstable planets" that might threaten the colonization of the entire universe, an endeavor for which they're armed with artificially intelligent "Thermostellar Triggering Devices" — or, simply, "Bombs." Unfortunately, with artificial intelligence also comes the capacity for Cartesian doubt (the process of doubting the truth of one's beliefs), which leads to. . . well, watch the clip and see. We think we'll miss the beachball alien the most.
---
Master Control Program in "TRON" (1982)
Disney's other gonzo sci-fi film from the late '70s and early '80s isn't as bizarrely misguided as its truly insane predecessor, The Black Hole, but that doesn't mean it actually makes much sense itself. It doesn't really matter, though — "TRON" is nothing if not pretty with its glowing lights and neon haze, and the special effects somehow look almost (almost) as impressive today as they did back in 1982. Well, maybe the villainous Master Control Program could use an upgrade (its lips — so mesmerizing!), but the commanding and intimidating voice of David Warner keeps any and all potential snickering in check. Good ol' MCP was sorely missed in "TRON: Legacy," though a new rather disconcerting sight was provided by Jeff Bridges as he was put through the CGI fountain of youth to portray both a young Kevin Flynn and his evil Grid alter ego, CLU (Codified Likeness Utility). Ugh.
---
Joshua in "WarGames" (1983)
That's right, Joshua, nobody wins in nuclear war, so the only option is to not play the game at all! One of the better '80s films to cash in on the video game/home computer craze (and definitely one of the darkest), "WarGames" follows young David Lightman (Matthew Broderick, three years before becoming Ferris Bueller), a teenage hacker who unwittingly accesses a military supercomputer programmed to predict possible outcomes of nuclear war. . . and nearly starts World War III as he innocently starts playing what he thinks is a cooler version of Pong. This clip features the third act climax, where Joshua talks itself out of blowing up the planet — you have to admit, that's a sound and light show worthy of a Pink Floyd concert.