Tim Grierson on the brilliance of "Shame," out now on DVD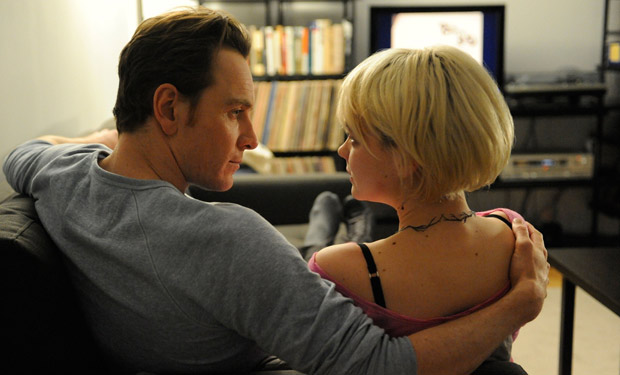 Posted by Tim Grierson on
Because so few movies receive an NC-17 rating, whenever one does it immediately gets waylaid with media attention and a certain amount of leering curiosity about why, exactly, it got such a restrictive rating. A few years ago, the sharply observed romantic drama "Blue Valentine," starring Ryan Gosling and Michelle Williams as an unraveling married couple, initially got slapped with an NC-17. The reason was ridiculous — it concerned one scene involving oral sex that was hardly graphic — but after the film's distributor, the Weinstein Company, appealed, it was dropped to an R. Still, the temporary NC-17 gave the film the stigma of being overtly risqué or salacious. In this country, NC-17 equals sex, a topic a lot of people have difficulty discussing, let alone seeing in a film at the multiplex.
One of last year's best films was NC-17, which meant that a lot of theaters wouldn't show it. And while that rating was the result of the movie's sexual content, it's not porn and it's not exploitative. And, when you get right down to it, the movie's not even really about sex. It's called "Shame," and it's out on DVD this week.
If you haven't seen it, perhaps you've heard a little about it. Michael Fassbender plays Brandon, a confident, handsome New York executive who has successfully hid his intense sexual cravings from his coworkers for years. Hiring prostitutes, visiting online sex sites, dabbling in the occasional fling, he can't seem to quench an insatiable thirst. Then his sister Sissy (Carey Mulligan) arrives in town, much to his annoyance. Though it's unclear why, there's an unspoken tension between them. She's very needy and flighty; he's very controlled and self-contained.
Because of the NC-17 rating, "Shame" was viewed through the prism of being a movie "about sex," an understandable impulse considering the main character's proclivities. But look closer at the film — written and directed by Steve McQueen, who first worked with Fassbender on "Hunger" — and you'll notice that "Shame" is about the agony of addiction. Usually, that disease is portrayed in the movies through characters who have drug, alcohol or gambling problems. We see the highs, but then we see the crushing lows. But with "Shame," there is no high: Brandon is at a point in his addiction where he's merely trying to keep from imploding, which means a constant search for more and more sex.
"Shame's" austere, dour tone drew complaints from some that the film was too mannered, offering an unrealistic portrait of sexual addiction in order to make a pretentious art film. I disagree completely. Though a touch heavy-handed at times, "Shame" seems to adopt the joyless, extreme mindset of its outwardly composed main character. Thankfully, Fassbender's performance is so electrifying — carnal and desperate and nuanced all at once — that the thrill of watching him provides all the joy you'll need. It's not a showy performance, but it is a consummately convincing one. And it has layers. The first time I saw the film, I thought Brandon was an unknowable phantom figure. The second time, I had intense sympathy for him — the terror and self-hatred seemed much more apparent. I'm not sure either interpretation is wrong. More likely, they're both right.
If you've been tempted by "Shame's" good reviews but scared off by the NC-17 rating, you should know that the movie's sexual content — while explicit in parts — isn't pervasive or horrifying. Frankly, it may not be anything you haven't seen before. But as opposed to porn, which is sometimes referred to as an "adult film," "Shame" is a film for adults. It's for grownups who can recognize a soul in peril — two, actually, if you count Sissy. Its NC-17 notwithstanding, "Shame" is really a universal story about the perils of family and the emotional scars that just won't heal — no matter what vices we use to try to make ourselves feel better.