"This Is 40" trailer offers first look at Judd Apatow's "Knocked Up" spin-off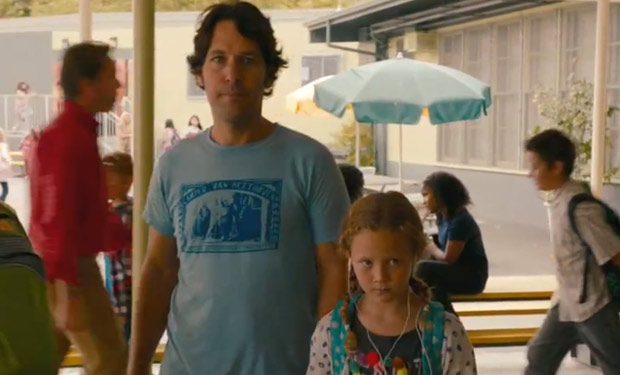 Posted by Terri Schwartz on
Judd Apatow's movies have made a marked progression towards the dramatic as the years have gone on. His films have always straddled the line between funny and honest, but "Funny People" clearly strikes a more emotional chord than Apatow's first feature, "The 40 Year Old Virgin."
If that's the direction that we're headed, then it seems like Apatow's latest, "This Is 40," may be his most honest comedy yet. The trailer for the flick has arrived, and Apatow should be applauded for making turning 40 seem more horrifying than being knocked up by Seth Rogen.
As the trailer says, "This Is 40" is the "sort of sequel" to 2007's "Knocked Up." It puts Paul Rudd and Leslie Mann's characters front and center, and focuses on their lives as they both turn 40. When we say this may be Apatow's most personal film yet, we weren't joking. It stars his wife and his two children, and replaces himself with Rudd. In case you were wondering, Apatow turned 40 five years ago and Mann hit the big year a month ago.
"I started thinking about writing a movie about a family and their midlife crisis, and then I realized I already have that family in one of my movies and I like them. Why do I have to meet new actors? I can use these amazing actors that people seem to like and were interested in learning more about and it came out really well," Apatow told IFC back in January.
Though Rudd and Mann are at the center of this story, "This Is 40" touts a long list of celebrity costars. The trailer teases Jason Segel, Melissa McCarthy and Ryan Lee's roles, but we also have Megan Fox, Lena Dunham, Charlyne Yi, Chris O'Dowd, Albert Brooks and John Lithgow to look forward to. Hopefully we'll see more of them in the next trailer, whenever it is released.
"This Is 40" is due in theaters on December 21.
What did you think of this trailer? Are you a fan of Apatow's genuine style of filmmaking? Tell us in the comments section below or on Facebook and Twitter!