Tim Grierson on "The Three Stooges" and the Risk of Casting Non-Stars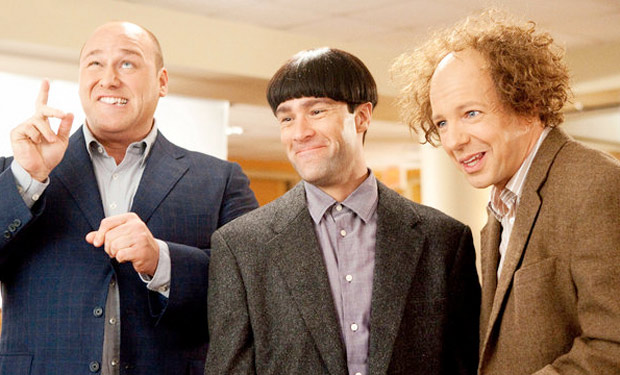 Posted by Tim Grierson on
Replacing cultural icons isn't easy. For modern-day films, that challenge usually involves finding the right actor for a reboot of Superman or Spider-Man, but this Friday comes a new movie based on a property older than your typical comic-book character. It's "The Three Stooges," the big-screen remake inspired by the slapstick comedy act that first appeared on screen more than 80 years ago.
For a few generations of fans, Larry, Curly and Moe will always be, respectively, Larry Fine, Curly Howard and Moe Howard, but time marches on, and directors Peter and Bobby Farrelly had to find actors who could play these roles. Those are big shoes to fill. At one point, it looked like Sean Penn, Jim Carrey and Benicio Del Toro were going to do it, but instead "The Three Stooges" will star three lesser-known actors. So, who are these guys? One of them, you'll probably recognize. The other two, you might need a little help.
The most famous of the trio is Sean Hayes, who will be Larry. His claim to fame was his role in the long-running sitcom "Will & Grace" as Jack, which earned him seven Emmy nominations. (He won once, in 2000.) Like a lot of actors who find success on TV, Hayes has mostly moved from thing to thing since — including doing one-off episodes for "Portlandia" and "30 Rock" — but most everybody still associates him with Jack, which I'm sure is a bit of a blessing and a curse.
But that's still more high-profile than our new Curly, Will Sasso. Clean-shaven and beefy like Curly Howard before him, Sasso appeared on "Mad TV" for several seasons, and he's kicked around since, starring on the short-lived "$#*! My Dad Says" and doing voices on "The Cleveland Show" and "Family Guy." Although he's played characters in movies like "Life as We Know It," he's primarily been an impression guy, spoofing Bill Clinton, Arnold Schwarzenegger and Randy Newman. So perhaps playing Curly isn't that huge of a stretch — he basically just needs to imitate Howard.
Then there's Chris Diamantopoulos. Before being cast as Moe, he was probably most famous for portraying Robin Williams in the 2005 TV movie "Behind the Camera: The Unauthorized Story of 'Mork & Mindy.'" Like Sasso, Diamantopoulos has gained notoriety for playing famous people — and his Williams is pretty darn good — but he's also been able to establish an acting career with stints on "24" and "The Starter Wife." Currently, he's also the guy in those Charles Schwab ads.
All in all, decent résumés, but let's be honest: We're a long ways away from Sean Penn, Jim Carrey and Benicio Del Toro. And maybe that's for the best. "The Three Stooges" represents a lifelong dream for the Farrelly brothers, whose biggest hit ("There's Something About Mary") was 14 years ago, which might as well be several lifetimes ago in Hollywood years. They've had a series of duds of late, but there was a sense that if they could just make this movie happen, then maybe they could right the ship. And while bigger stars in "The Three Stooges" would have definitely helped at the box office, the filmmakers insist that they ended up with the right cast — perhaps in part because they found guys you wouldn't necessarily know from a lot of other roles. At least that's how Peter Farrelly explained it in a recent interview:
"This movie couldn't have been made any better with anyone else, the three we got are incredible. We've always been blessed to have people pass on us. We could sit here and say, it was a choice, but we couldn't get anybody! People were scared to death to do this movie because of the criticism you see all over the internet and also because we were clear on one thing. We said, you're not doing a version of Moe, Larry or Curly. You're doing Moe, Larry and Curly, on the nose. This isn't Batman, where different actors come in and do their thing. Nobody liked that. So we decided to cast the best Moe, Larry and Curly out there and these are the guys we came up with."
And now they're going to have to see if audiences are happy that these are the guys the Farrellys came up with. Like with a Batman or James Bond movie, "The Three Stooges" doesn't necessarily need stars — it just needs someone who feels right for the part. Looking at the publicity materials, Hayes, Sasso and Diamantopoulos are reasonable physical facsimiles of Larry, Curly and Moe. Now they just have to convince us they've got the original trio's comic timing and rapport. And, really, not being big stars probably won't make any difference in that regard. Just being funny will probably be good enough.