The 10 essential Steve Martin comedies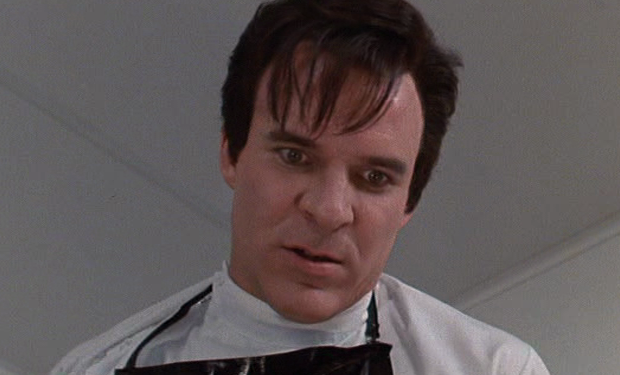 Posted by Andy Hunsaker on
Steve Martin is a marvelously unique talent, in that he cut his teeth on wacky prop comedy, hit the big time with brilliantly stupid movies, and has aged into being a fiercely astute intellectual who can run the gamut between smart and dumb humor with relaxed ease. Lately, some of his movie choices have been somewhat less than well-received, but they help fund his art collection and his ability to spend a lot of time out on tour playing his banjo with various musical outfits. He's won Emmys and Grammys. He's truly one of a kind, and we shouldn't ever forget the fantastically funny movies he's made in the light of the Sgt. Bilkos.
Here's a rundown of ten essential Steve Martin comedies that should help you understand how great the man is – and this doesn't include his interesting dramas like "Shopgirl" and "The Spanish Prisoner," or his surprising cameos in "The Muppet Movie" or "Sgt. Pepper's Lonely Hearts Club Band." As an addendum, if you can track down the VHS copy of Steve Martin Live!, you can see him at the peak of his brilliant stand-up career – although it'll be much easier to find his albums – Let's Get Small and Wild and Crazy Guy.
---
1. "The Jerk" (1979)
The breakthrough film he wrote remains one of the best film comedies of all time, constantly managing to be intelligent and dopey at the same time. The meandering saga of the dim-witted but good-hearted Navin R. Johnson, born a poor black child, as he wanders the country never stops being absurdly hilarious. Working for Jackie Mason at a gas station, becoming the target of a deranged M. Emmett Walsh, becoming carnival personnel, falling for Bernadette Peters whose young nephew wears a t-shirt that says "Bull Shit" on it, stumbling into unimaginable riches, being brought low by Iron Balls McGinty… every moment has something sublimely ridiculous about it. Despite being able to hire his own personal disco dancers, this comedy remains ageless.
---
2. "Dead Men Don't Wear Plaid" (1982)
This was a concept that wouldn't work in lesser hands, but Carl Reiner had proven how well he understood Steve with "The Jerk," and thus, splicing a bunch of old film noir flicks together around him to craft a ridiculous soft-boiled detective story works hilariously well. The adventures of Rigby Reardon and his mysterious and stunning bullet-sucking femme fatale Rachel Ward also include appearances by Humphrey Bogart, Vincent Price, Bette Davis, Joan Crawford and every star from the 1930s you could think of, and it's a pitch-perfect satire of all those beloved tropes. One of the best lines in the narration that exemplifies that: "Carlotta was the kind of town where they spell trouble T-R-U-B-I-L, and if you try to correct them, they kill you."
---
3. "All Of Me" (1984)
Steve Martin's gift for physical comedy is on full display in this fantasy comedy wherein he's an attorney who has to share half of his body with the spirit of a rotten, eccentric malcontent played by Lily Tomlin. Arguing with himself in public, the right half of his body walking like a dignified woman and the left as his normal self – it's got plenty of the zaniness that made him famous, but the deeper relationship between the two people in one body also marks the beginning of his maturation into more intelligent, realistic character work. Yes, even though he's half-possessed by a ghost.
---
4. "Three Amigos" (1986)
While it was initially greeted with mixed reviews, the undeniable goofiness of this team-up of Steve Martin, Martin Short and Chevy Chase has endured as a beloved favorite. Three washed up cowboys from the silent film era journey to Mexico to work with the infamous (that means "more than famous!") El Guapo, not realizing they have actually been called upon to save the innocent town of Santa Poco from the nefarious shenanigans of a criminal they believe to be a showman, and the result is funny hijinks with a bit less of a manic tone than some of Martin's earlier comedies. Still, the plethora of weirdness is wonderful, such as when Chevy Chase's Dusty Bottoms accidentally kills the Invisible Swordsman.
---
5. "Roxanne" (1987)
The maturation continues with a contemporized adaptation of Cyrano de Bergerac, featuring Steve playing C.D. Bales, a fireman somewhere in the Pacific Northwest who's charming, smart, tough, quick-witted and eloquent, and yet sports a nose so cartoonishly large that it hinders his confidence with women – Daryl Hannah in particular – despite the fact that everyone in town loves the guy (and knows better than to bring up the schnoz). However, he woos her through a handsome and friendly, yet dopey fellow fireman passing the words off as his own. It's romantic comedy with a much less obnoxious feel than much of what falls in this genre, showing just how well Martin can step into the shoes of a leading man without being boring.