"The Hunger Games" gets the "Saturday Night Live" treatment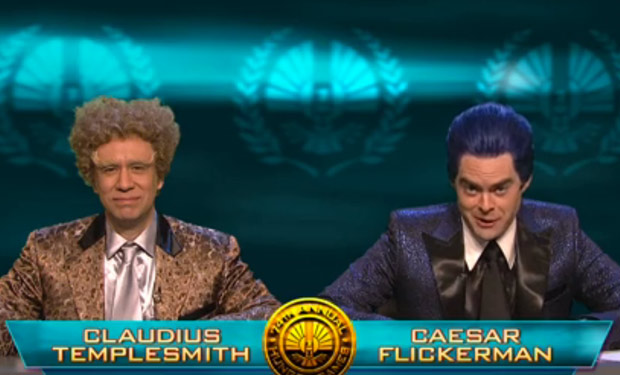 Posted by Terri Schwartz on
There's one thing that's almost a guarantee when you're the number one movie in America three weeks running: you're going to get spoofed on "Saturday Night Live."
"The Hunger Games" was the latest film to get this treatment on last night's Sofia Vergara-hosted episode. The "Modern Family" star acted as an Effie Trinket-styled news reporter covering the Games in the middle of the action. Unfortunately, she was also responsible for several deaths because, well, she's loud and proud like Vergara in real life. Hunger Gaaaaames!
In other "Hunger Games" news, the flick has dominated the box office for the third week in the row. It earned $33.5 million this weekend, bringing its total gross up to $302 million. Not too shabby, all things considered, and the flick won't have any real competition until "The Avengers" comes out May 4. As excited as we are for "The Cabin in the Woods" this weekend, we doubt the R-rated horror comedy will draw more people than the continued success of "The Hunger Games" will.
Also, we feel it's worth noting that "The Hunger Games" has made more money (domestically) in its three weeks of release than all of the "Twilight Saga" films have made in their entire theatrical runs. Point made.
"The Hunger Games" tells the story of Katniss Everdeen, a 16-year-old girl from the poor District 12 section of the futuristic country Panem who volunteers herself into the annual Hunger Games to take the place of her sister. In the Hunger Games, she must fight to the death against 23 of her peers on national television to win fame and fortune to her District. But Katniss only thinks about her survival and returning to her family, and that's what gives her the edge. "The Hunger Games" hits theaters on March 23, 2012.
Are you surprised "The Hunger Games" is doing so well in theaters? Did you find the "SNL" skit funny? Tell us in the comments section below or on Facebook and Twitter.