"The Fourth Dimension" – First impressions of Val Kilmer's Tribeca film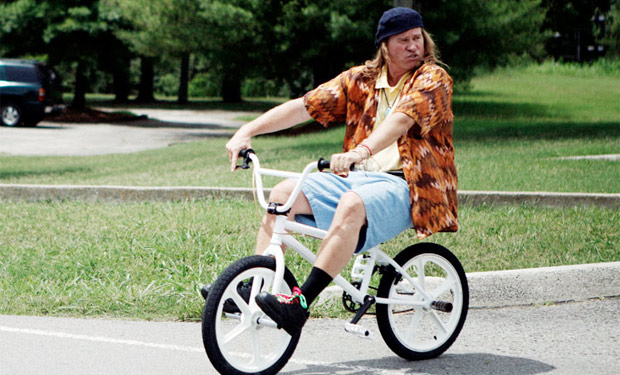 Posted by IFC on
By Jordan Hoffman
If nothing else, "The Fourth Dimension" marks a new way for me to accord a film with a basement-level backhanded compliment. I won't recommend you go so far as to rent it or catch it on cable, but I do urge you to, in time, watch clips of it YouTube.
This anthology film is ostensibly about the concept of space-time, though only one of the three shorts puts this premise front and center. None of the shorts are any good (one is flat-out unwatchable) but the first of the three is notable in its meme-readiness. I'm speaking about "The Lotus Community Workshop," directed by Harmony Korine, starring Val Kilmer as Val Kilmer.
Set in a neon-lit arcade/roller rink, Kilmer spazzes out as a manic motivational speaker before a freakshow group of losers. Seemingly ad-libbed, Kilmer's verbal dexterity is able to hold your attention longer than you might think, especially as there is only the thinnest thread connecting his carpet-bombed brain droppings. He's accompanied by a DJ who adds cheap sound effect punctuations to nearly every other sentence and, I must say, the joke manages to get funnier the longer it goes. If the desired intent is to simulate watching a faith healer while on LSD, mission accomplished.
Intercut with the "sermon" is footage of Kilmer riding his bike around town, talking about his mission with civilians, and renting a video game with a woman in corn rows. The short ends really proud of itself, with a song on the soundtrack and a closing-credits tag discussing the need for a catch phrase. You'd think that someone so colossally hipper-than-thou as Korine would eschew such a victory lap, but I suppose he has an easy out by saying that even this celebration-of-its-own-cleverness is meant to be in quotes. Fine. The truth is that there are many very entertaining moments in the "The Lotus Community Workshop," and Korine is back on firmer ground after his insufferable last feature "Trash Humpers."
The second film, Alexy Fedorchenko's intensely Russian sci-fi short "Chronoeye", has a neat concept even if its ending is wholly predictable. A science genius who turned down $1 million in prize money works feverishly in his dilapidated apartment. He's seen putting a giant magnet (or something) atop a tower and is now using the field generated from it in connection with a helmet-cam and a monitor to "see" into the past.
For brief instances he can catch a glimpse of someone's POV at certain moments in time. Alas, these snippets only frustrate him more, as they offer no understanding. Further, he is haunted by visions of hands playing a piano. Only when he connects with his annoying neighbor (an attractive young dancer who, as luck would have it, has a fetish for older men driven mad by the demons of his past) is he able to see a possible future.
It's a reasonably cute short, but on the nose moments like shouting "I need God's point of view!" is something only a Slavic tongue can get away with.
The final film, "Pawns" by Jan Kwienciski, is hardly even worth discussing. Its defenders (if there are any) may argue that it is an allegory and not meant to be taken at face value, but I say you can take it face value – as a substitute for Ambien.
A group of wildly-clothed youth run around an abandoned town as news broadcasts talk about an encroaching storm. Eventually, they leave.
"The Fourth Dimension" is produced in conjunction with Vice Magazine, and while I loathe that publication and its odious worldview, I swear to you I went into this film without any foreknowledge of their involvement. Indeed, "Chronoeye" isn't very "Vice" at all and "The Lotus Community Workshop" seems of a piece with Korine's earlier work, much of which I enjoy (specifically "Julien Donkey-Boy.") I can't tell you if "Fawns" has the Vice aesthetic – I'm not trendy enough to know when clothes look crazy or are on the cutting edge. I can say, however, that all films, even ones produced by those whose life's work it is to make others feel bad about themselves, ought to strive to at least not be boring.