"The Dark Knight Rises" third trailer to premiere with "The Avengers"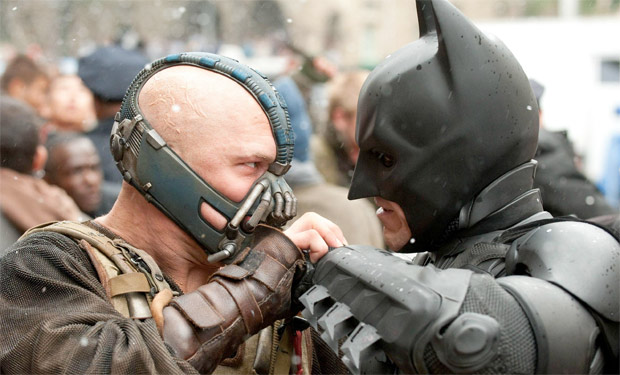 Posted by Terri Schwartz on
There are few things we love more than good trailer and movie pairings. "The Hunger Games" trailer premiered before "The Twilight Saga: Breaking Dawn — Part 1," "The Avengers" came after "Captain America: The First Avenger" and "The Dark Knight" landed before "I Am Legend." Continuing the pattern is "The Dark Knight Rises," which will have a new theatrical trailer debut before "The Avengers" on May 4.
This is great news, especially since we haven't seen much on the "Dark Knight Rises" front in recent months. Rumor has it that this trailer will be focused on Catwoman, who is a character that we haven't seen much of in the previous teasers.
Nolan Fans found the news on the official Warner Bros website but, as /Film points out, the fact that Warner Bros is sending out copies of the trailer to cinemas doesn't mean it will necessarily play at an "Avengers" screening near you. As "The Dark Knight Rises" is a Warner Bros film and Disney made "The Avengers," the former can't force theaters to show their movie before another studio's film. However, as these two are the biggest superhero movies to come out this year, it only makes sense that they be paired together.
And that's not the only exciting "The Dark Knight Rises" news to come out today. The Wall Street Journal confirmed that there will be "more than one hour's worth" of IMAX footage in the upcoming Batman film. As if we needed a better excuse to see this movie on the big(gest) screen.
"The Dark Knight Rises" hits theaters on July 20, and "The Avengers" is due out next Friday.
Are you glad so much of "The Dark Knight Rises" was shot in IMAX? Will you see "The Avengers" in order to catch "TDKR's" new trailer? Tell us in the comments section below or on Facebook and Twitter.