"The Dark Knight Rises" star Tom Hardy compares Bane to the Joker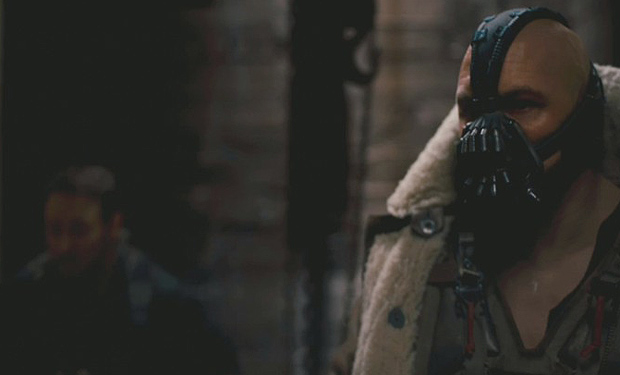 Posted by Terri Schwartz on
The world might be in a bit of an "Avengers" craze right now following the great response to the film at its world premiere last week, but we can't help continuing to be excited for another big superhero flick: "The Dark Knight Rises."
The latter doesn't bow in theaters until July 20, but there's plenty of information to be garnered from it now. Tom Hardy recently talked about how his villainous character Bane will stack up against "The Dark Knight's" big bad, the Joker.
"The Joker didn't care," Hardy told Entertainment Weekly. "He just wanted to see the world burn, and he was a master of chaos and destruction, unscrupulous and crazy. Bane is not that guy. There is a very meticulous and calculated way about Bane. There is a huge orchestration of organization to his ambition. He is also a physical threat to Batman. There is nothing vague about Bane. No jokes. He's a very clean, clear villain."
Christopher Nolan might be hesitant to talk about "The Dark Knight Rises" specifics, but he has no qualms about discussing his filming techniques. The esteemed director has long chosen 35mm film over digital and IMAX over 3D, and he told the Directors Guild of America magazine that he doesn't plan to change any time soon.
"For the last 10 years, I've felt increasing pressure to stop shooting film and start shooting video, but I've never understood why," he said. "That's the way everyone was doing it 10 years ago, and I've just carried on making films in the way that works best and waiting until there's a good reason to change. But I haven't seen that reason yet."
Nolan added about IMAX, "Right before Christmas I brought some filmmakers together and showed them the prologue for 'The Dark Knight Rises' that we shot on IMAX film, then cut from the original negative and printed. I wanted to give them a chance to see the potential, because I think IMAX is the best film format that was ever invented."
Are you excited for "The Dark Knight Rises"? Let us know in the comments section below or on Facebook and Twitter.