New "The Dark Knight Rises" photos and plot synopsis emerge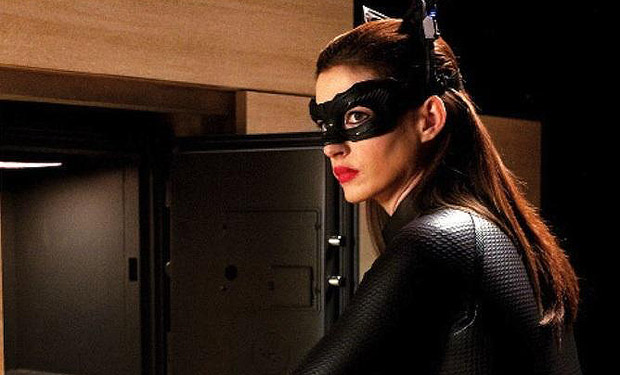 Posted by Terri Schwartz on
The cast and crew of "The Dark Knight Rises" have been notoriously secretive about revealing too many details surrounding the upcoming Batman flick, but the new Entertainment Weekly cover story about it offers us some new looks at the film.
EW have released six new images from the film that show some scenes we haven't seen before. There's Bane walking through what looks to be a government control room, Bruce Wayne and Lucius Fox sharing a conversation over a newspaper, and Catwoman cracking into a safe. But what's more exciting than the new photos is the way the cast has opened up about the movie.
"We wanted to show a character who is aging, who is damaged, who may not be in his prime," Christian Bale told EW. "He has never encountered anyone with such blunt force as Bane, and this is not the best time for him to encounter him."
The story also implies that there is no guarantee Batman will come out of "The Dark Knight Rises" alive. Anne Hathaway seemed to cement that concept by saying, "[Christopher Nolan] has created an epic disaster film."
In addition, EW has got their hands on a new plot synopsis that adds some color to the previously released information, including the fact that Marion Cotillard's Miranda Tate might be another love interest for Bruce Wayne. Here it is in its entirety:
"'Rises' is set eight years after the events of the 'Dark Knight.' Gotham City is at peace and prospering, but Bruce Wayne is still recovering physically and emotionally from the tragic battles with the Joker and Harvey Dent. Batman, who took the fall for Harvey's crimes so Gotham could remain inspired by the lawman's former idealism, continues to be reviled and MIA as the story begins. While old allies Alfred and Lucius Fox and potential love interest Miranda Tate try to revive Bruce's spirits, two new threats to Gotham force Batman to end his exile."
"The Dark Knight Rises" hits theaters July 20.
Do these new photos and plot points intrigue you? Let us know in the comments section below or on Facebook and Twitter.