Call-In Commentary: Watch "The Cabin in the Woods" trailer with star Fran Kranz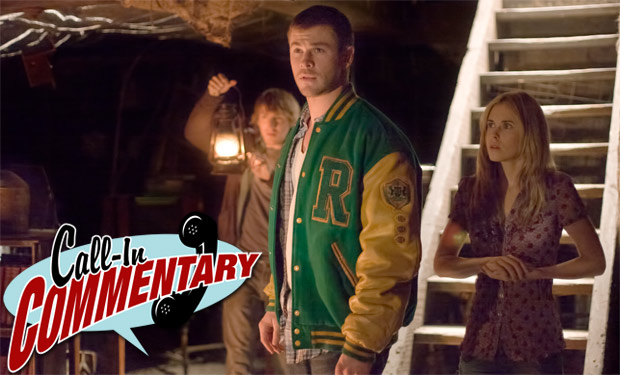 Posted by Brian Jacks on
One of the most fiercely original films to come along in recent memory, "The Cabin in the Woods" derives from the combined minds of Joss Whedon ("The Avengers," "Buffy the Vampire Slayer") and director Drew Goddard ("Cloverfield"). Part horror, part sci-fi and part comedy, the film straddles multiple genres, infusing each with such creativity and energy that it's a pure treat to watch.
"Cabin" has kept much of its plot under wraps, with good reason, but to get an insider's take we turned to Fran Kranz, who plays a carefree stoner in the pic, one of a group of friends who trek to a remote dwelling in the middle of some spooky woods. It's all part of our Call-In Commentary series, where filmmakers and stars provide audio commentary to their movie trailer. In the video below, Kranz playfully carries along some of the film's mystique, along with sharing some personal anecdotes along the way. "The Cabin in the Woods" hits theaters this Friday.
video player loading
.
.
.
MORE CALL-IN COMMENTARIES:
– Watch "The Moth Diaries" trailer with writer-director Mary Herron
– Watch the "Brake" trailer with star Stephen Dorff
– Watch the "Detachment" trailer with director Tony Kaye
– Watch "The Snowtown Murders" trailer with director Justin Kurzel
– Watch the "Being Flynn" trailer with writer-director Paul Weitz
– Watch the "Tim and Eric's Billion Dollar Movie" trailer with Tim and Eric
View more Call-In Commentaries…
Will you be checking out "The Cabin in the Woods"? Let us know in the comments below, or on Facebook or Twitter.