"The Avengers" clip and featurette tease the Black Widow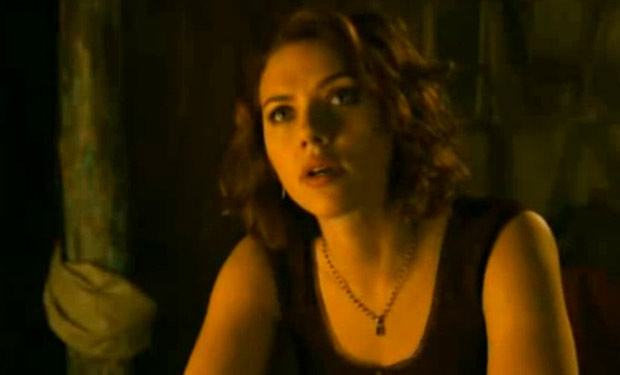 Posted by Terri Schwartz on
Any day is made better by a healthy dose of Scarlett Johansson. Today we got double the dosage of our favorite Marvel assassin in a new "Avengers" clip and a Black Widow-centric featurette.
The clip gives us a good taste of what we can expect from both the Black Widow and Mark Ruffalo's Bruce Banner. Johansson's character is there to persuade Banner to help S.H.I.E.L.D. find something that's been stolen from them. It's clear that Widow doesn't want to be around Banner anymore than she has to, and that comes to the forefront when it seems like his anger is going to force him to turn into the Hulk. She pulls a gun on him immediately, but Banner goes on to admit that he just wanted to see how she would respond to a potential transformation.
The featurette offers a little background to why the Black Widow was there to begin with. Turns out she's been given the fun job of rounding up our favorite superheroes so Nick Fury can pitch the Avengers initiative to them. Johansson and Robert Downey Jr. go on to talk about why they're glad the Black Widow was included in "The Avengers" line-up.
[Click here for the Black Widow featurette .. warning, it autoplays]
Directed by Joss Whedon, "The Avengers" stars Downey, Ruffalo, Chris Evans, Chris Hemsworth, Samuel L. Jackson, Tom Hiddleston, Johansson, Jeremy Renner and Cobie Smulders. It's due in theaters on May 4.
What did you think of the new clip and featurette? Tell us in the comments section below or on Facebook and Twitter.