"The Avengers" debuts two new clips featuring epic conflicts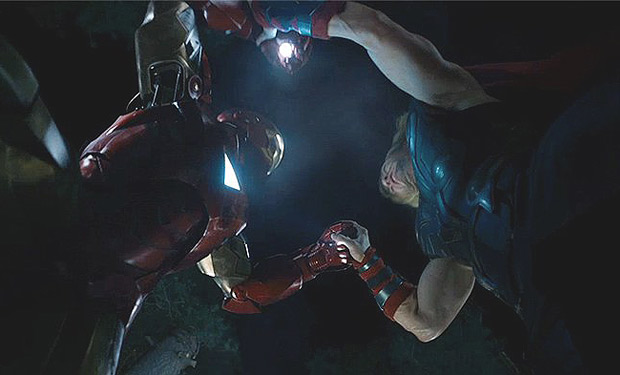 Posted by Terri Schwartz on
Did yesterdays reveal of Marvel's new toys not quite scratch your "The Avengers" itch? Well you're in luck, because today we have two new clips from the upcoming movie for you and some teases for what the new scene being shot is going to be about.
But first the two clips. The newest, entitled "The Face Off," features Thor and Iron Man battling it out against one another in the woods. I have always assumed that this is what every pair of new male friends does when they meet one another, but I guess I could be wrong. Either way, neither Thor nor Iron Man really seems prepared for each others' strengths and weaknesses, so it seems like it's a good idea to get that part of the meet-and-greet out of the way sooner rather than later.
The second scene has a bit more of a set-up. S.H.I.E.L.D. is holding Loki captive (in the Hulk's captivity chamber, no less) and Nick Fury is busy interrogating Thor's troublesome little brother. The latter starts ragging on the team Fury brought together to defeat Loki, and it's revealed that most of them are sitting in on the conversation from a viewing room. None of them seems too pleased about the unkind words Loki is saying, but they'll get him back good if the trailers are anything to go off of.
Lastly, Access Hollywood talked to Robert Downey Jr. and Mark Ruffalo and then Chris Evans and Chris Hemsworth and asked them about the new scene being filmed for the movie. None of them gave clear answers, but their responses are funny nonetheless. Be warned, some minor spoilers are included in the first video.
Directed by Joss Whedon, "The Avengers" stars Downey, Ruffalo, Evans, Hemsworth, Samuel L. Jackson, Tom Hiddleston, Scarlett Johansson, Jeremy Renner and Cobie Smulders. It's due in theaters on May 4.
What did you think of these latest two scenes? Tell us in the comments section below or on Facebook and Twitter.