"The Avengers" clip shows Thor and Captain America battling Loki's army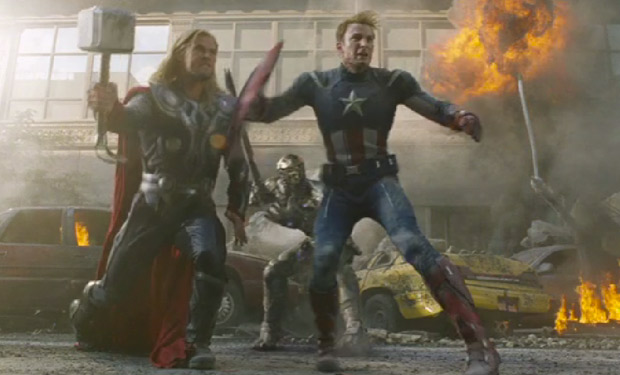 Posted by Terri Schwartz on
Stop, it's hammer time. Or Mjolnir time, to be exact. Yes, it's a new day, and that means we have a new clip from the upcoming Marvel flick "The Avengers."
This one is just a snippet of the epic battle scene we've seen teased in previous behind-the-scenes images, production stills and trailers. Thor and Captain America can be seen facing off against Loki's army when the good Captain gets hit with a laser from one of the aliens' guns. While he is injured, Thor takes out the rest of their enemies and then helps Captain America stand up. Teamwork!
Judging by the amount of footage we've seen surrounding this battle, it seems like it's going to be a big set piece in the flick. Yesterday's clip featuring Tony Stark and Loki seemed to be a precursor to the fight, and much of the fighting taking place in the trailers released seems to take place during this sequence as well. That works for us, because the Marvel movies don't tend to be known for their action scenes.
For those of you desperate for a look at Loki's army, this clip gives you a pretty clear look. Thank goodness we all don't have to rely on grainy screenshots and toy models to convince ourselves that these aliens are not Skrulls.
Initial reactions to the film from those who were lucky enough to watch it at its premiere were overwhelmingly positive, so it seems safe to say that all this set up will pay off. However, it is beginning to feel like we've seen just about everything in the movie already. Hopefully Marvel doesn't plan to release a new clip or TV spot every day until "The Avengers" hits theaters.
video player loading
.
.
.
Directed by Joss Whedon, the film stars Robert Downey Jr., Tom Hiddleston, Chris Evans, Mark Ruffalo, Chris Hemsworth, Scarlett Johansson, Jeremy Renner, Stellan Skarsgård and Samuel L. Jackson. It is due in theaters on May 4.
What do you think of this new clip from "The Avengers"? Let us now in the comments section below or on Facebook and Twitter.