"The Avengers" clip features Loki and Tony Stark facing off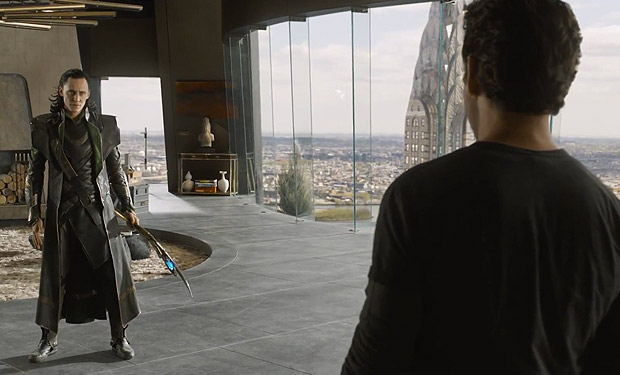 Posted by Terri Schwartz on
Two "Avengers" TV spots not enough for you in one day? Well, you're in luck, because we've also got a brand new clip from the movie to help brighten your day.
Though we've been beginning to feel like Marvel has shown us every scene in "The Avengers," at least this is one we've seen snippets of before. It seems like Tom Hiddleston's Loki has managed to hold Robert Downey Jr.s' Tony Stark captive, but that doesn't stop the man better known for his iron suit from egging Loki on.
The "Thor" and "Avengers" villain asks Stark what he has to fear from him, and Stark responds by listing off their team of Avengers. Loki delivers his now famous line of, "I have an army," to which Stark replies, "We have a hulk." And we'd be remiss if we didn't mention Stark's final statement: "If we can't protect the Earth, you can be damn well sure we'll avenge it."
We're pretty sure this is the same scene Hiddleston was talking about back in December that ends with him hurling Stark out of the building that they're in.
"I had the privilege of throwing Robert Downey Jr. out of a window. So, it's pinch-me moments all the way," Hiddleston told the New York Daily News. "I did get to throw Tony Stark [Iron Man's alter ego] through a window — which you can see in trailers — all I can tell you is he deserved it. He's got a sharp tongue, that Tony Stark."
That sounds about right. Directed by Joss Whedon, "The Avengers" also stars Chris Evans, Mark Ruffalo, Chris Hemsworth, Scarlett Johansson, Jeremy Renner, Stellan Skarsgård and Samuel L. Jackson. It is due in theaters on May 4.
What did you think of this latest clip? Tell us in the comments section below or on Facebook and Twitter.