"The Avengers" clip features Cobie Smulders as Maria Hill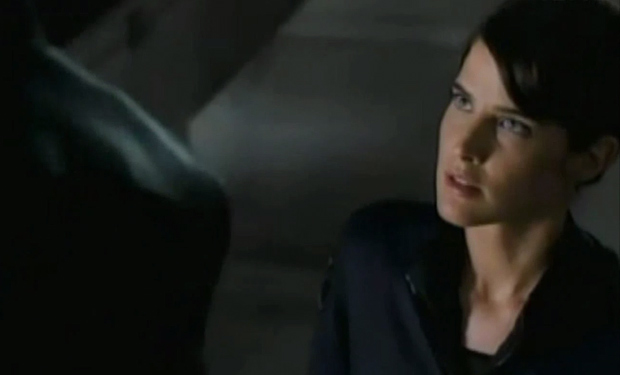 Posted by Terri Schwartz on
At long last, we've got our first good look at Cobie Smulders' S.H.I.E.L.D. character, Maria Hill. Though we haven't seen much of her during "The Avengers" promotional campaign, this new scene from the movie gives us a good taste of the role we can expect her to play.
The clip, which Smulders premiered on "The Late Show with David Letterman," shows Hill bumping heads with Samuel L. Jackson's Nick Fury. He gives her a run for her money and shuts her down in the end, but it's clear from this scene that Hill has got a pretty strong backbone.
Hopefully the amount of time Hill has been featured in Marvel's promotion for "The Avengers" is not indicative of her screen time in the movie. If this is how Hill talks to Nick Fury, we can't wait to see what she has to say to Captain America or Tony Stark.
We've developed a bit of a soft spot for Smulders thanks to her role as Robin on "How I Met Your Mother." It's nice to see her expanding upon the tough girl attitude she has on that show and transform it into a nice dramatic role. We can't really picture her having a chance to get in on the action in "The Avengers," but if she has more than five minutes of screen time we'll consider this a win.
Directed by Joss Whedon, "The Avengers" stars Robert Downey Jr., Chris Evans, Mark Ruffalo, Chris Hemsworth, Scarlett Johansson, Jeremy Renner, Tom Hiddleston, Stellan Skarsgård and Samuel L. Jackson. It is due in theaters on May 4.
What did you think of this look at Maria Hill? Tell us in the comments section below or on Facebook and Twitter.