The top 10 most evil children in movies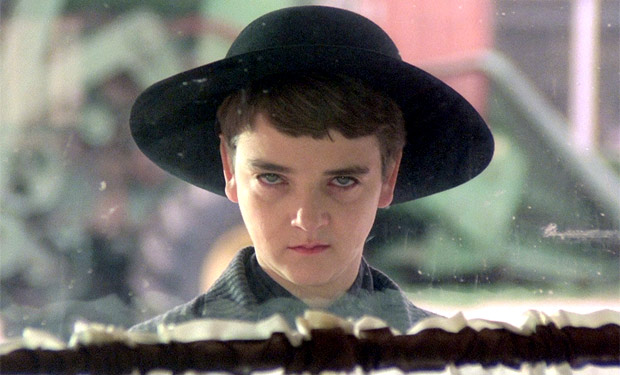 Posted by Bryan Enk on
Evil is somehow even more evil when it's personified and/or inflicted by a minor. Here are some of cinema history's creepiest little shits, from the raving Rhoda in "The Bad Seed" to the scalpel-wielding Gage Creed in "Pet Sematary" to the she-demon orphan of "Case 39."
---
"The Bad Seed" (1956)
Pray you never get on the bad side of Rhoda, a pigtailed terror in a Sunday dress who's not afraid to use her tap shoes as murder weapons in order to get what she wants. The hapless janitor in this scene should've ceased with his taunts a good minute earlier (much like the janitor in John Carpenter's "Village of the Damned," but we'll get to that later), otherwise Rhoda might not have SET HIM ON FIRE (you don't get to see that part in the video; you'll just have to catch the whole movie on Netflix Streaming) 'cause he knows too damn much about her evil Rhoda doings. Believe it or not, this preposterous After School Special gone stark raving bonkers was nominated for four Oscars (including a Best Supporting Actress nod for Paddy McCormack's performance as the insufferable brat); the Academy must've seen it as some sort of bizarro cautionary tale, complete with a post-credits comeuppance for the film's mini-villainess as she receives a hearty spanking at the hand of Nancy Kelly (who was also Oscar-nominated for her performance as Rhoda's mother). Weird.
---
"The Exorcist" (1973)
"Your mother sucks cocks in hell, Karras!" William Friedkin's gonzo free-for-all adaptation of William Peter Blatty's weirdo novel (read it if you haven't; it's bonkers) ended up being what many consider to be the best horror movie ever made — and a project that doomed a young actress named Linda Blair to a life of typecasting and appearances at horror conventions. Whatever, though — better to have one great role in one great movie than a life of digging ditches, and "The Exorcist" is just dripping (or perhaps oozing — check out the video and you'll see what we mean) with greatness. The adult actors are terrific and all (particularly Jason Miller as Father Karras, whose beautifully underplayed performance often gets overlooked in favor of the more histrionic work of Ellen Burstyn and Max von Sydow), but it's Blair who owns the show and steals it from herself as the little girl possessed by an impossibly vulgar, mercilessly manipulative demon (voiced by Mercedes McCambridge).
---
"The Omen" (1976)
Director Richard Donner's tale of a well-to-do couple who start to suspect that their young son might be the spawn of Satan or something is cheesy '70s horror played completely stone-faced seriously (well, for the most part), resulting in a truly unsettling thriller that stands proudly behind the shoulder of "The Exorcist" as one of the few religious horror movies that actually works. "The Omen" is filled with elaborate set pieces designed to shock and amaze, from the (ex-) nanny ruining a perfectly good birthday party by hanging herself to a priest getting impaled by the spear-like crucifix atop his own church that becomes unhinged during a rather nasty storm (conjured by the Prince of Darkness himself!) to David Warner getting decapitated by a runaway sheet of glass. Great stuff, with little Harvey Stephens delivering a particularly creepy performance as young Damien; you'll believe he's the Devil's kid without any real stretch of the imagination, whether there's a nasty Rottweiler lurking around or not.
---
"Children of the Corn" (1984)
This movie is ridiculous, and so is the Stephen King short story it's based on, but damn if it isn't an entertaining bit of hayseed horror with an exquisitely stupid premise involving overalls-wearing teenage bumpkins who knock off their moms and dads (and everyone else over the age of 18, at that) as they worship something called He Who Walks Among the Rows. Pete Horton and Linda Hamilton play the young couple who run afoul of these little creeps, but the key conflict is the rivalry between Isaac (John Franklin) and his power-hungry right-hand, uh, man, Malachai (Courteney Gains); the former being sacrificed to He Who Walks Among the Rows is one of the film's freakiest scenes, made all the more so by Franklin's disturbingly high-pitched voice (there's no post production tinkering there; he actually sounds like that, courtesy of the Growth Hormone Deficiency that also accounts for his short stature and underage looks). Franklin reprised his role 15 years later in "Children of the Corn 666: Isaac's Return," and it ruled.
---
"Pet Sematary" (1989)
It was the scariest movie in the world when you were, like, 15, but when you got a little older you probably realized that this B-movie adaptation of Stephen King's C-level bestseller was actually kind of . . . dumb. However, what's made at least some of "Pet Sematary" stand the test of time is its sheer tastelessness; there's something truly brazen about how tacky this movie is, whether it be its reduction of poor Zelda to a moaning, convulsing guilt-demon (yes, Mr. King, we know you think disease = evil) or director Mary Lambert's manipulative trickery in getting too-young-to-know-better Miko Hughes to be a snarling, grimacing, scalpel-wielding toddler from hell. "No fair!" cries little Gage when his father (Dale Midkiff) sticks him in the neck with a syringe for what seems like five minutes; we agree whole-heartedly, kid.