Seth MacFarlane's dirty teddy bear movie "Ted" gets a red-band trailer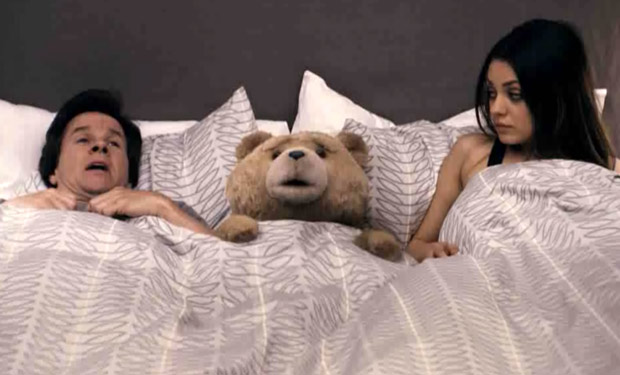 Posted by Terri Schwartz on
Don't act like you haven't secretly (or not so secretly) been waiting for months for the release of the trailer for Seth MacFarlane's first flick, "Ted." We sure have been. And, true to form, the creator of "Family Guy" has released a red band trailer for the movie before he released a green band one. Take that warning to heart: this is not a film for your little "Family Guy"-loving brother.
If you thought MacFarlane would mix it up a bit and give his titular character a voice that's different from what we've heard him do before, you'd be wrong. Ted sounds like Peter Griffin coming from a cute, cuddly, bong-hitting teddy bear body. And honestly, there's nothing wrong with that (though we might be waiting the whole movie to hear him shout, "Lois!" just once).
But the movie would be nothing if its live action main character wasn't as ridiculous as its CGI one. Mark Wahlberg looks like he has happily gone off the deep end in this film, and watching the trailer has be genuinely hoping he was acting opposite an actual stuffed bear before all the animation was added in.
Let's just hope the actual film lives up to this trailer's promise. We're sure to see a green band teaser headed our way soon, but for now we'll revel in the glory of MacFarlane let off his network television chain. Goodness, but that man has got a dirty mind.
"Ted" is set to premiere on July 13.
What did you think of the movie's red band trailer? Tell us in the comments section below or on Facebook and Twitter.