Reggie Watts discusses the evolution of "Comedy Bang! Bang!"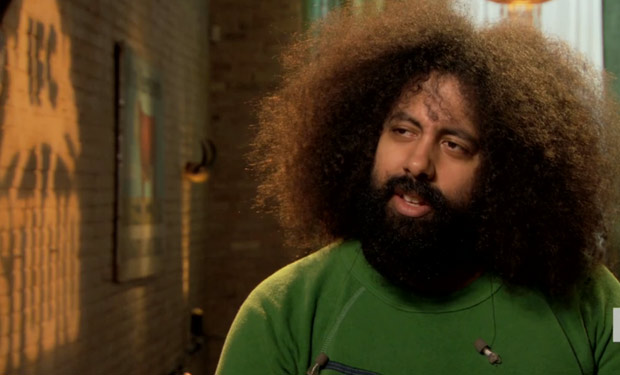 Posted by Terri Schwartz on
Reggie Watts might not have been a part of "Comedy Bang! Bang!" since its origins as "Comedy Death-Ray," but he's been an integral part of the story for a very long time. IFC was lucky enough to catch up with Watts at SXSW, where he talked about the journey he took from "Death-Ray" to IFC's newest comedy show (set to air in June).
video player loading
.
.
.
"I remember, of course, starting to get to go on ['Comedy Death Ray'], and it was such a huge deal, and Scott [Aukerman] asked me to do the theme song for the podcast, we started doing podcasts, and they just started building and escalating and they next thing you know, 'Hey, want to do a TV show?' Like, 'Okay,' " he explained with a laugh.
Even though he's been working on the new IFC show for a while, Watts said the experience of being a part of it is still very surreal. "Every time I was on set, I was like, 'What decisions did I make that got me here?'" he said. "Like every time, 'What's happening right now?'"
Watts told IFC that he's happier to be involved in an ensemble show instead of, as he puts it, "The Reggie Watts Show." Even though Watts recently did a Comedy Central special, he said that this is the type of work he prefers to be doing.
"I'm stoked to be a part of it and it's fun to do my thing," he said. "I'm doing it in a really small way, which I kind of like. I like that I'm just doing this little teaser of what I do on that show."
Are you a fan of Watts' brand of comedy? Tell us in the comments section below or on Facebook and Twitter.