Las Vegas nearly built a full-scale replica of Star Trek's "USS Enterprise"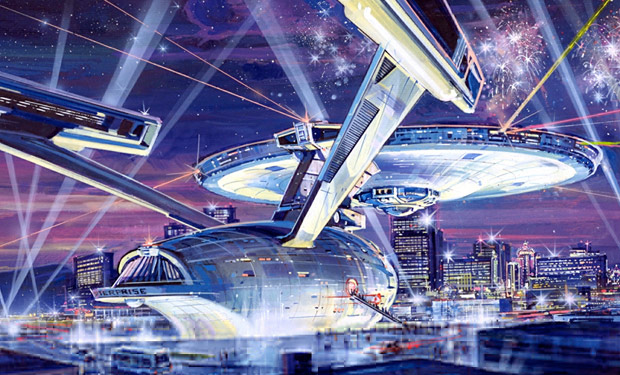 Posted by Terri Schwartz on
Apparently there once could have been a big reason for "Star Trek" fans to visit Las Vegas that wasn't just the yearly Trekkie convention. According to entertainment designer Gary Goddard, he submitted an idea to the Las Vegas downtown redevelopment competition back in 1992 to build a full-scale USS Enterprise to help drive tourism away from the Vegas Strip.
"My concept was to do something so large and so epic, it would fire the imaginations of people around the world. After looking at how difficult it would be to bring people to the downtown core (from the Strip), I knew we had to have something really exciting, dynamic, and without equal," Goddard wrote. "I went to Chuck Canciller, my lead designer then – and a genius as well – and said, "What if we built the STARSHIP ENTERPRISE – FULL SCALE – on the land at the end of the street. Imagine that…" Chuck looked at me as if I had lost my mind, but by that time he also knew I was serious about big ideas like this."
If it had actually happened, the Enterprise would have been immense. Goddard claims the $150 million attraction would have been made at full scale, and would have included all the "rooms, chambers, decks and corridors that we knew from the movie." The big draw of the Enterprise would have been that you would get a "tour" of the ship, even getting to dine in Starfleet comfort in its dining area. Goddard also says that some ideas for "interesting ride elements" were kicked around including "a high speed travelator that would whisk you from deck to deck."
Goddard put about five months of effort into the project and had the backing of the Paramount licensing team and the Las Vegas mayor and redevelopment crew, but ultimately it was studio chairman Stanley Jaffe who shot it down. "I don't want to be the guy that approved this and then it's a flop and sitting out there in Vegas forever," Jaffe allegedly said.
Instead of the Enterprise, downtown Vegas built the rooftop "video screen" that became the Freemont Experience, which drove plenty of tourism into the downtown area for a good five years after it was built. And Goddard did end up building a "Star Trek" attraction in Las Vegas in 1998 in the form of "Star Trek: The Experience." But we agree with Goddard when he says that he wishes the Enterprise "will find a home somewhere else in the world."
Are you disappointed this "Star Trek" attraction was never built? Tell us in the comments section below or on Facebook and Twitter.