"Star Trek 2" set photo shows Spock dressed for action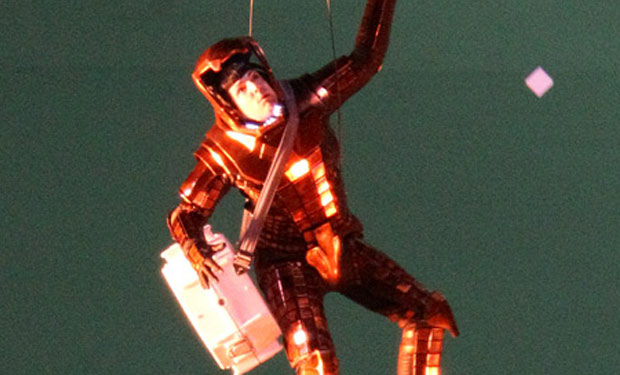 Posted by Terri Schwartz on
When we heard that there was a new photo from the set of "Star Trek 2," our expectations had us expecting something a little different than what we actually got.
We figured that maybe there would be some more awesome fight scenes between Zachary Quinto and Benedict Cumberbatch, or maybe even a moment featuring Chris Pine or Zoe Saldana. But instead we have an awkwardly posed Quinto in a bulky orange suit being lifted through the air towards… something.
This sequence will likely look awesome when it has CGI added to it and is shown in the context of the movie, but until then we'll have to puzzle over just what Quinto is reaching for in his shinny suit.
The photo comes to us courtesy of MTV, and the description they received about it from On Location News refers to this as Spock's "volcano suit."
"Zachary Quinto as Spok filming an action scene for the Untitled Star Trek 2 Sequel. After first rehearsing the scene with a Spok Stunt Double Actor Zachary Quinto was then rigged to a wire in front of a large green screen and lifted to a height of 10 stories high then dropped at a high rate of speed as if he was falling. In the scene Spok is wearing a 'Volcano Suit' and carrying an unknown piece of equipment with the Starfleet Emblem. A Volcano is somehow involved in this scene. The crew had a real fire burning off camera to catch the fire reflections on Spok's 'Volcano Suit'," the description reads.
After we finished being distracted by the misspelling of "Spock," we couldn't help but notice how similar this suit looks to the one Spock used in the original "Star Trek" movie. Director J.J. Abrams made plenty of nods to the source material in his first "Star Trek" film, so it doesn't seem like much of a stretch to think that he could do the same in this one. Since this is an alternate universe, maybe this is Abrams' way of saying, "Look how these storylines run parallel to one another!"
Then again, how many temperature resistant body suits does Spock have floating around? It's just unfortunate that this one (or I guess these two, technically) had to come in such an unfortunate color.
"Star Trek 2" is due out in theaters on May 17, 2013. It also stars Simon Pegg, Anton Yelchin, Karl Urban, John Cho and Alice Eve.
What's your take on the great volcano suit mystery? Tell us in the comments section below or on Facebook and Twitter.