"Short Circuit" remake to be a family-friendly movie with "heavy themes"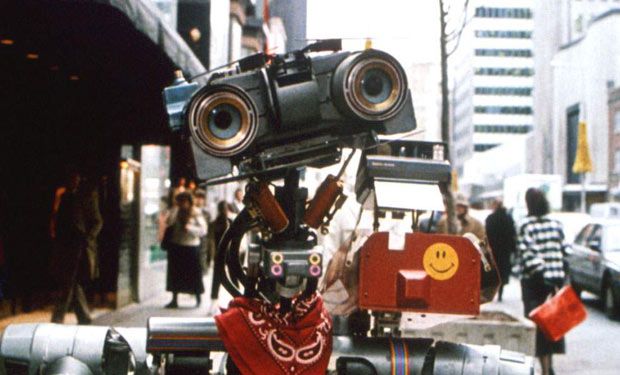 Posted by Terri Schwartz on
The upcoming "Short Circuit" remake might be gearing up to have a younger protagonist than the original and be pretty family friendly, but director Tim Hill's description of the upcoming flick shares that it will deal with some pretty dark content.
In an interview with The Los Angeles Times, the "Hop" director shared that he's going to age down his female protagonist to a preteen in order to help balance off some of the more mature elements of its script. His take on "Short Circuit" will be set in a modern world where robots are an essential part of warfare, and the film will have leading 'bot Johnny 5 grappling with issues of morality.
"The thing that makes it so relevant is that we live in this age of robots, particularly when it comes to war," Hill explained. "We have drones that do our fighting for us, do all these jobs men and women don't want to do. And that's what makes this so interesting — things like this moment in the story when Johnny realizes he's going to be disassembled and contemplates death, and whether it's right to terminate someone else."
Even Hill admits that those are "heavy themes for a family movie," but he thinks it will work in the long run. In fact, it reminds us a bit of the dark elements present in "Wall-E," which I personally consider to be Pixar's crowning masterpiece.
As for Johnny 5 himself, Hill teased that the beloved robot will be receiving a modern update as well.
"I'm tempted to go back and grab the original. But I think it has to be closer to what modern design actually is. There are computer models and labs developing real machines like this. We want to do something like that," he said. "You've got to find the balance between something fierce and something endearing. The original was cute. But no one was threatened by it."
Of course, we've got a soft spot for "Short Circuit" because the original was filmed partly in Portland, the science fiction capital of America. Everyone from Ursula K. Le Guin to Frank Herbert was influenced by the city. There's no guarantee that Hill will bring his remake back to Portland to shoot, but it endears us to the flick nonetheless.
Are you intrigued by Hill's take on "Short Circuit"? Let us know in the comments section below or on Facebook and Twitter.