Oliver Stone's "Savages" trailer promises drugs, sex and death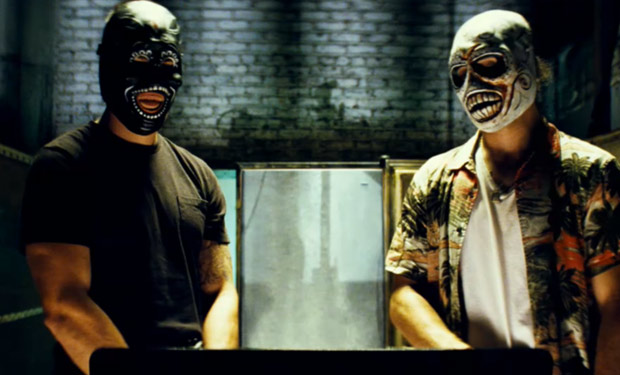 Posted by Terri Schwartz on
The trailer for "Savages," the latest movie from Oliver Stone, has finally hit the web.
The flick follows Taylor Kitsch and Aaron Johnson as two drug dealers who are in love with the same woman, played by Blake Lively. Life is idyllic for the trio until the Mexican Baja Cartel — led by Salma Hayek and Benicio del Toro — decides to take over their patch of Laguna Beach and demand that they become partners. When the two young marijuana growers refuse, the cartel kidnaps Lively's character and starts a battle between the two organizations.
The trailer promises that Stone is back in his "Natural Born Killers" mindset, and we couldn't be happier. "Savages" looks both sexy and terrifying, and it's great to see Kitsch, Johnson and Lively so out of their element.
When IFC caught up with Demian Bechir at the Film Independent Spirit Awards, he teased his role as Salma Hayek's lawyer in the movie. He added that the three young stars of the film are talents to look out for in the coming years.
"Taylor? That guy's amazing. And Aaron Johnson and Blake Lively," Bichir said. "They're not only great actors, they're beautiful people, and it was an honor to be close to them and work on those scenes with them."
"Savages" is due in theaters on July 6. It also stars John Travolta, Uma Thurman, Benicio del Toro and Emile Hirsch.
What did you think of the "Savages" trailer? Tell us in the comments section below or on Facebook and Twitter.