"Rock of Ages" new trailer shows Tom Cruise channeling Bon Jovi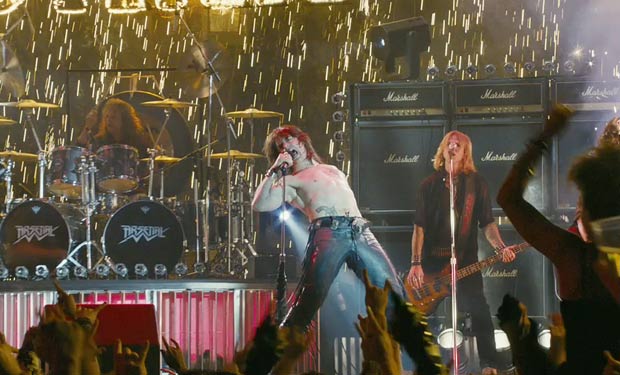 Posted by Aubrey Sitterson on
In the grand tradition of musicals becoming films, "Hairspray" director Adam Shankman is bringing "Rock of Ages" to movie theaters this summer. Now, courtesy of a new trailer, you can see Tom Cruise, Alec Baldwin, Mary J. Blige and the rest in all of their teased-out cover-band glory.
The film is based on the hit Broadway musical of the same name, which centers around all of the 1980s hair metal music that used to be lame, then became ironic, and now is somewhat confusingly totally acceptable again. That means you can expect to get more than your fair share of Journey, Bon Jovi, Twisted Sister, Asia and yes, Poison. Despite the fact that he's currently the age of the guys who played this music originally are now, Tom Cruise is playing the rock star lead, Stacee Jaxx. Credit where credit is due, however, Cruise is a movie star of the highest order, and during this trailer at least, it's easy to forget that the guy prancing around to "Wanted: Dead or Alive" is 49 years young. Plus, Jon Bon Jovi is half a century old himself and it sure ain't stopping him from seeing millions of faces and rocking them all, so why not?
Aside from the musical performances, other highlights of the trailer include Paul Giamatti in an extremely Giamatti-esque role, Mary J. Blige channeling Tina Turner, Alec Baldwin channeling Wayne and Garth's dopey pals from the first "Wayne's World" movie, and Russell Brand in the same role he's been playing presumably since birth.
"Rock of Ages" hits theaters on June 15.
Are you excited for the movie version of the hit Broadway musical? Tell us in the comments below or on Facebook or Twitter.