Ridley Scott on "Prometheus" and exploring the origins of the Space Jockey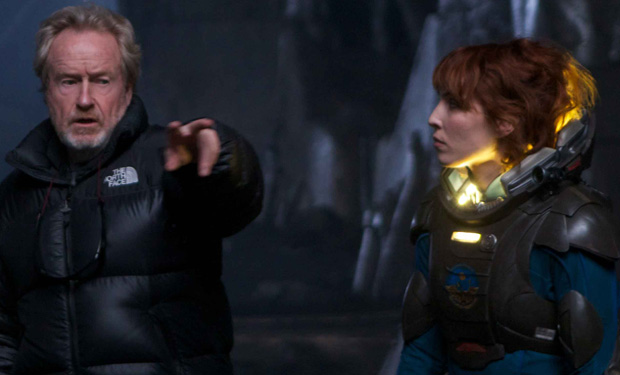 Posted by Terri Schwartz on
Ridley Scott and the cast of "Prometheus" have been making the media rounds in Europe, holding press conferences in both Paris and London to share some new footage of the movie with foreign press.
Though much of the film is still a secret, the director and his cast — Noomi Rapace, Michael Fassbender and Charlize Theron — did give away some very telling bits of information about the flick. Chief among them was Scott's confirmation at the London press conference (via Empire) that "Prometheus" will have to deal with the origins of the Space Jockey.
"I must have thought about it for three or four years and thought in all of the films nobody had asked a very simple question which was – who is the big guy in the chair, who was fondly after 'Alien' called The Space Jockey," Scott said of his initial pitch for "Prometheus." "I went in to Fox with four questions. Who are they? Why are they there? Why that cargo and where were they going or had they in fact had a forced landing? And so in fact it was a study of a pilot and Tom Rothman [co-chairman and CEO of Fox Filmed Entertainment] said, 'That sounds good to me'."
Scott continued, "It's interesting when you start off with an interesting idea like that and you don't know whether it's going to be a prequel or a sequel. It gradually adjusted itself into much larger questions and therefore now the actual connection to the original 'Alien' is barely in its DNA. You kind of get it in the last seven minutes or so."
That being said, there will be plenty of connections to "Alien." Rapace said that, though her character is not a predecessor to Sigourney Weaver's Ripley, she definitely comes from the same mold.
"She feels like she's in the same family, in a way," Rapace said. "She's a survivor and a fighter in the same kind of way, a little bit similar to Ripley."
Similarly, there's going to be a scene in "Prometheus" that is in line with "Alien's" famous chest-buster scene.
"There is a scene that could be called the equivalent of that. But that was private; no one witnessed that. It's your scene [points to Rapace]. But we can't say what it is," he said.
Rapace added, "I dreamt nightmares for two weeks. I had these weird fucked-up images in my head, so yes it did affect us."
Guy Pearce recently talked to Fangoria and said that "Prometheus" works very well as a predecessor to "Alien." He plays Peter Weyland, who Pearce confirmed is connected to the Weyland-Tutani Corporation that's seen as a villainous organization throughout the entire "Alien" series. But he was quick to clarify that this isn't just a cut-and-dry prequel.
"What I'm saying is this is not just, 'Oh, this is what they were doing before the first "Alien" film.' It delves into ideas and philosophy that make it a much grander scenario than a typical prequel," Pearce said.
At the Paris press conference (via PrometheusForum.net), Scott also discussed the running time of "Prometheus." He said that the version of the film that people see in theaters will be his director's cut, though that could change by the time it actually hits theaters on June 8.
"In this instance, you got a pretty good version here, pretty good cut," Scott said.
"We're running at about — I think without the end titles, which normally run about four to five minutes — we're running one hour, fifty-nine minutes and change. It's very tight, it's what it should be."
Are you looking forward to "Prometheus"? Tell us in the comments section below or on Facebook and Twitter.