"Prometheus" international launch trailer delivers the aliens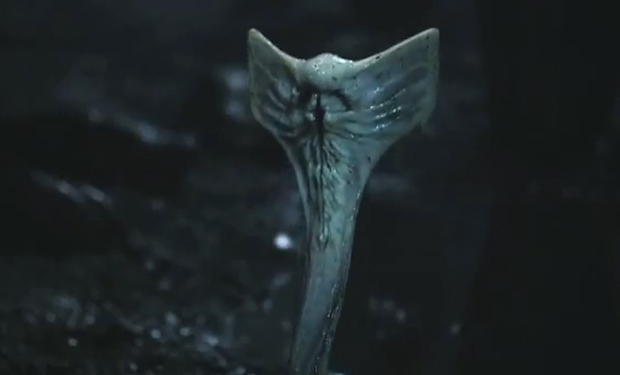 Posted by Will Weinand on
After months of pouring over the trailers for "Promethueus" like Jim Garrison studying the Zapruder film (for the younger readers, that's a "JFK" joke), one thing we still hadn't seen was a dead-on shot of one of the film's monsters. That all changes with the new international trailer, which includes scenes with what might be the spiritual predecessor to "Alien's" face-hugger, exploding pods, infected crew members in different stages of transformation, and some ethereal shots of the Space Jockeys in action (possibly their race's version of instant-replay?).
Keeping in theme with other installments in the "Alien" saga, one of the immediate dangers that the crew of the Prometheus faces is one of their own. The new footage give us a look at Charlize Theron's character Meredith Vickers, the Weyland-Yutani corporation representative who clearly has a hidden agenda, but goes about about it with a sinister directness that neither Ian Hom's Ash or Paul Reiser's Burke never dared. The trailer shows Vickers as a cold and ruthless figurehead, supervising a mission she openly believes is destined to fail. So, why is she going?
For everything "Prometheus" has shown the audience in these trailers, there's still a ton of mystery behind the film, and we're counting down the days until June 8 when all will be revealed. In the meantime, enjoy the new footage below.
What do you think is the corporation's ulterior motive in "Prometheus"? Tell us in the comments below or on Facebook or Twitter.