Exclusive premiere: The Black Angels "Entrance Song" [NSFW]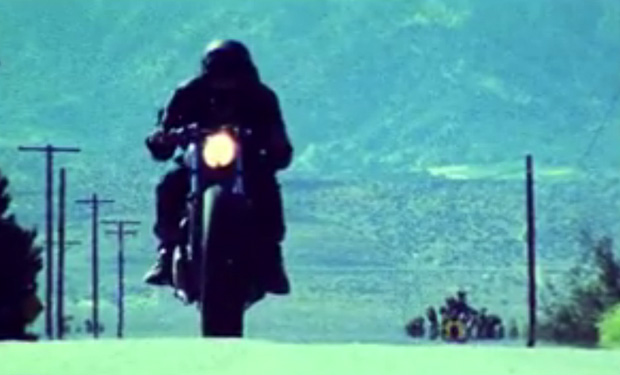 Posted by Brandon Kim on
A clean edit of The Black Angels' I-35 road jam "Entrance Song," showed up on Vevo just over a month ago, but we have the real deal here, complete with a wandering, naked, dream girl. It's not that she's just not naked in the previously released family-approved version, she's nowhere to be found in it at all.
This isn't the first time the band took videos from from their acclaimed, "Phosphene Dream," and fancied releasing different cuts of them, or placed coded messages in them for that matter.
In "Entrance Song," a man rides off down what is presumably Interstate 35 somewhere in Texas, and appears to be harassed by a mysterious glittery figure who conjures other riders to taunt him, seemingly at will. In the edit, our hero is driven into the sea (after losing his motorcycle?), where the last thing we see is a shark. But in this infinitely better NSFW cut, he gets the girl.
video player loading
.
.
.
The Black Angels perform at Coachella this month and at Metallica's Orion Music + More festival this June. Their new 7″ "Watch Out Boy"/"I'd Rather Be Lonely" will be out this month on Record Store Day (April 21st). You can check out the b-side here.
The girl or the shark? Let us know in the comments below or on Twitter or Facebook!