Exclusive premiere: Miniature Tigers "Sex on the Regular" [NSFW]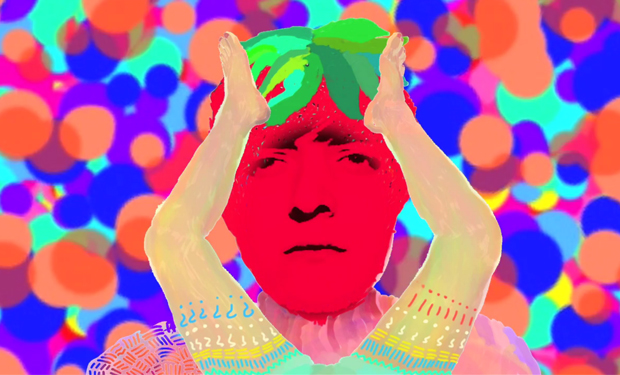 Posted by Brandon Kim on
Miniature Tigers recast themselves as masters of dance pop on their third album, "Mia Pharoah," wielding a potent dose of 80's cool like a pair of Woody Allen glasses. Yes, they're dated, whimsical things, but indispensable devices with which to view the world through — seen here in super VGA color. It's a bit jangly, a bit disco, and thick with 8-bit synth. Like the playful album title, frontman Charlie Brand conjures winks and cheesy nods, with lines like "you can take me out and play me like a saxophone," but it's no joke. It's a recipe for a fruitful summer hit.
There's plenty of innuendo in the song, but we wouldn't tag a video NSFW just for that, not even for the cartoon snake-penises, which also slither about in this sing-along that, if not for it's sexual imagery, looks like it could have been pulled from a wacky  candy commercial circa 1988. But a singing vagina, even animated, might just be over the line. You decide! The video was directed and edited by Max Goldblatt, with the animation created by Brand.
video player loading
.
.
.
Miniature Tigers Spring 2012 Tour with Fun.:
4/13/12 The Brick Minneapolis, MN
4/14/12 Vic Theatre Chicago, IL
4/15/12 St. Andrews Hall Detroit, MI
4/19/12 Newport Music Hall Columbus, OH
4/20/12 Water Street Music Hall Rochester, NY
4/25/12 The Guvernment Toronto, ON
4/27/12 Northern Lights Clifton Park, NY
4/28/12 Theatre of the Living Arts Philadelphia, PA
4/30/12 Cabaret Du Mile End Montreal, QC
5/3/12 9:30 Club Washington, DC
5/4/12 9:30 Club Washington, DC
5/5/12 Jefferson Theater Charlottesville, VA
Feels like losing your virginity? Let us know in the comments below or on Twitter or Facebook!