Exclusive premiere: "Grace On A Hill Pt. 4 – Malibu Rum"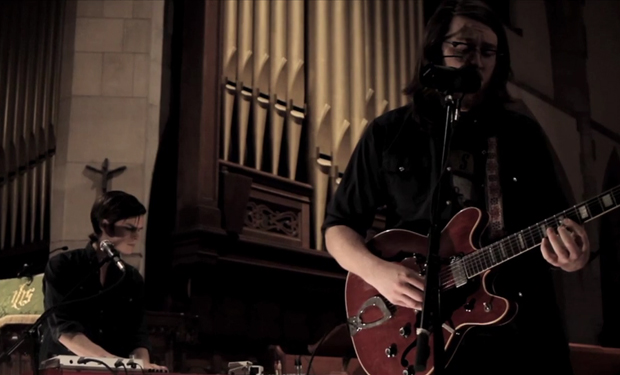 Posted by Brandon Kim on
One dark and stormy night, The Wooden Sky took refuge in a church in their hometown of Toronto and filmed a series of episodic performances as the rain came down and the lights began to go out. At least, that's how the quietly spooky narrative plays out that links these performances together, directed by the talented Scott Cudmore (who has a penchant for stormy weather).
In part one of "Grace On A Hill," premiered by Interview Magazine, a French woman is having trouble with her phone signal while trying to explain to an unseen antagonist what she's doing in the church. Then the sound of the rain gives way to the band at the altar as she walks down the aisle.
Cudmore wanted to give a narrative context to the songs, that would progress throughout the night — "like in a movie where the drama gives a different context to the song used on the soundtrack," Cudmore told Interview. "Only in this project the songs are the centerpiece and are performed live while the narrative is the backdrop instead of the other way around."
By the time we get to part four, it's 2:20am and news of the outside world is grim — we know from a previous episode that there's strange weather in France too and now the roads are closed in Toronto. Static radio transmissions garble in the background as a woman ascends a stairwell up into the church. As she approaches the band, an air raid siren sounds. And in the most genius kind of audio craftsmanship, the band's voices brilliantly pour over the siren until each is lost in the other in an unexpected harmony.
video player loading
.
.
.
The Wooden Sky's transcendent album, "Every Child A Daughter, Every Moon A Sun," is out now on Black Box Recordings and you can find it here.
Tour dates:
4/12 – Vancouver, BC @ The Biltmore
4/13 – Nelson, BC @ The Royal
4/14 – Edmonton, AB @ The Pawn Shop
4/16 – Regina, SK @ The Exchange
4/18 – Sault Ste Marie, ON @ Lop Lop Gallery
4/19 – Sudbury, ON @ The Townehouse
4/20 – Toronto, ON @ The Opera House
4/21 – Peterborough, ON @ Red Dog Tavern
4/27 – St. John's, NL @ The Ship
4/28 – St. John's, NL @ The Ship
5/08 – Boston, MA @ Radio
5/09 – Brooklyn, NY @ Union Pool
5/10 – Philadelphia, PA @ Kung Fu Necktie
5/11 – New York, NY @ Pianos
Have you been following "Grace on a Hill?" Let us know in the comments below or on Twitter or Facebook!