Marvel working on two mystery movies: Are they "Guardians of the Galaxy" and "Inhumans"?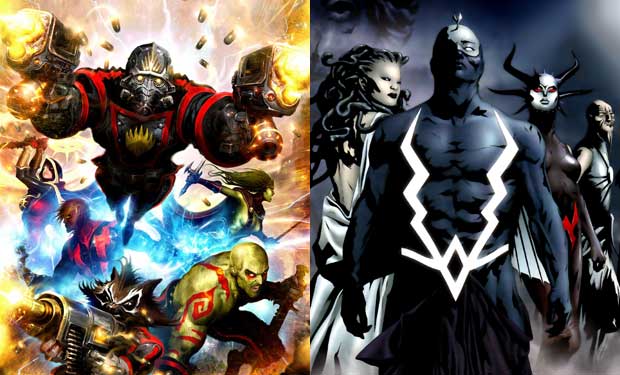 Posted by Terri Schwartz on
Oh Ryan Penagos, you tease. The executive editorial director at Marvel Digital Media Group posted some of the most tantalizing Marvel news we've seen in a while.
"My folder for emails about @Marvel's The @Avengers at work has reached a critical point," he tweeted, including a picture of his mailbox to prove his point.
Yes, "Avengers" has 666 emails in its folder and "Captain America" has 217, but we couldn't help but be distracted by the two blurred out movies on the list. Could it be that Marvel has two secret movies up its sleeve?
It seems likely, especially considering the fact that Marvel has already announced that they will be releasing an undisclosed movie in 2014 alongside "Captain America 2." And since Kevin Feige already said that out of "Ant-Man," "Runaways," "The Inhumans" and "Guardians of the Galaxy," "two out of those four are much closer than people realize, and we'll be talking about them in the coming months," it's likely that the unrevealed movies are from that list.
Let's use some of our powers of deduction, shall we? This list that Penagos has revealed is in alphabetical order from what we can tell, which narrows down which movies he could be hiding. My guess is that the two films that are being discussed are "Guardians of the Galaxy" — shortened in Penagos's email to "Galaxy" — and "The Inhumans" — shortened to "Inhumans."
Those guesses seem to align themselves with the news we heard back in October about Marvel's upcoming movie slate. "Guardians of the Galaxy" is supposed to be tied to "Thor 2," so it would make sense that the former come out the year after the "Thor" sequel does. And since "Inhumans" is being cultivated as a follow-up of sorts to "Avengers," it makes sense that Marvel wait until after "The Avengers" hits theaters to reveal more information about it.
What movies do you think Penagos is hiding? Let us know in the comments section below or on Facebook and Twitter.