Malin Akerman has her eyes on "Before Watchmen"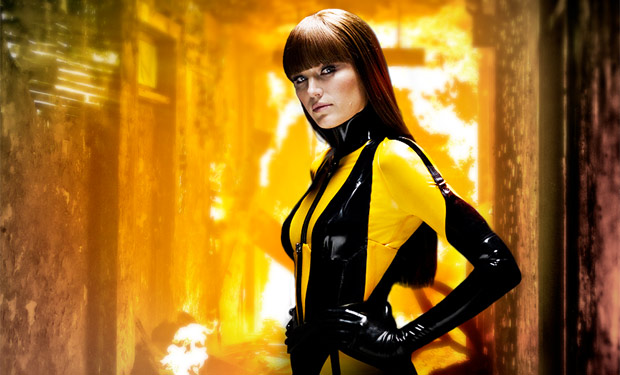 Posted by IFC on
By Jordan Hoffman
Gorgeous Swedish-Canadian actress Malin Akerman is in town to support "The Giant Mechanical Man" as it plays in the Tribeca Film Festival. During my conversation about that Jenna Fischer/Chris Messina romantic dramedy, I gave in to temptation and began discussing "Watchmen." While Ms. Akerman remains blissfully unaware that I keep a small print of her Silk Spectre II character poster in my office (it is a masterpiece of parabolas) it turns out she's very much aware about what is going on in the larger Watchmen-verse. Here's how that went down.
IFC: Even though the book "Watchmen" exists as a canonical text —
AKERMAN: Hey, nice use of "canonical text!"
IFC: Thank you. But, as you may or may not know, DC has decided to publish prequel comics. . .
AKERMAN: So I hear. Yeah, I'd really like to read them.
IFC: They are making a few different mini-arcs for different characters, one of which is your character, and I'm wondering –
AKERMAN: I didn't know about the breakdown. I wonder, though, if it is about Carla Gugino's character, Silk Spectre I?
IFC: It's a little bit awesome that you are asking that.
AKERMAN: And if it were about her, then, wouldn't it be about The Minutemen?
IFC: It's a little bit double awesome that you are asking that. As it happens, there's one for both The Minutemen and your character.
AKERMAN: Great. Yeah, I want to read it. For curiosity, absolutely.
IFC: What sort of things would you like to learn about her? What sort of adventures would you like her to have?
AKERMAN: More about her childhood, certainly. And how her mother coaxed her into being a vigilante and to follow her footsteps. I always thought of Silk Spectre II as a sheltered girl, certainly someone who was tough on the streets, but someone sheltered from the world with a mother who was like a stage mom who pushed her into something that may not have been her choice. I'd love to see that dynamic explored, growing up.
IFC: Certain adversaries you'd like to see? Or the derivation of the costume?
AKERMAN: Oh, yes. A funny montage ending in the decision to choose latex and high heels for fighting.
Before Watchmen is coming to your favorite funnybook shop this summer.