Malcolm McDowell talks Tom Jones, his legendary career and his new film "Suing The Devil"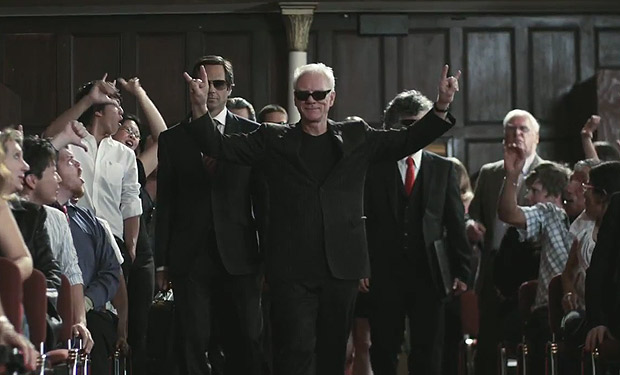 Posted by Scott Neumyer on
Legendary actor Malcolm McDowell has certainly played his fair share of big screen bad guys. From Alex DeLarge in "A Clockwork Orange" to Dr. Tolian Soran in "Star Trek Generations," McDowell has turned the cinematic villain into an art form. Perhaps none of his previous characters, however, could match the historically tainted image that his character in Tim Chey's thriller "Suing the Devil" maintains. In the film, now available On Demand and Digital Download, McDowell plays the Prince of Darkness himself – Satan. When Luke O'Brien (Bart Bronson) decides he's had enough and sues Satan for eight trillion dollars, the Devil must come to his defense with the help of the country's greatest lawyers. McDowell was kind enough to sit down with IFC to chat about Tom Jones, his legendary film career, and what it's like to play Satan.
IFC: We'll start right in: Do you really think Satan prefers Tom Jones to KISS?
Malcolm McDowell: (Laughter) Well, I put that in because my eight-year-old went through a Tom Jones period. He loves Tom Jones and asked me if I could invite him over for tea. My thought was, well he's Welsh and he'd probably prefer a nice pint of beer. (Laughter) Yeah, he loved Tom Jones so that's why I put that in there. I could have said Elvis Presley or someone else, but I just thought it would be fun and so random. (Laughter) I got a chuckle out of it. I just threw it in. There are a lot of ad-libs there, actually, in that part. A LOT. I'd say maybe twenty-five percent I made it up.
IFC: It does seem like they gave you a lot of room to play.
MCDOWELL: It's the kind of role that you can do anything. When he's waving the bible at me, I'm pretending it's his heart or something. I mean, whatever. You can go with anything on this kind of stuff. And it's such a great role to do that you just make it your own and run with it basically. The thing is, I was there really to entertain the audience. That part had to be bigger than life. Believable? Yes, and it had to really keep the audience entertained. That was what my brief was playing that part. Simple as that.
IFC: It seems like Satan plays it very much like a rock star. I wondered is that more how you viewed him or how you believe Satan would view himself?
MCDOWELL: Yes, it's the way Satan would love to, of course, appear himself. Sure. [SPOILER REDACTED] Bigger than life. I had to inject a little more in it than normally I would as far as playing a naturalistic sort of part.
IFC: Is that one of the things that first attracted you to the project? The idea that you could really spread your wings a little?
MCDOWELL: Yeah, I could really go for it. You know? Sometimes it's great to just really go for it. And this is one of those parts. You can't hold back. You can't think of the subtleties of playing. You just have to get out and really bare it all and hopefully you don't fall off the plank. And if you do, hey, pick yourself up, dust yourself down, and start all over again.
IFC: "Suing the Devil" is also a highly religious film. Would you consider yourself a religious person?
MCDOWELL: It is. As for me, I would say that I'm a believer, for sure. I certainly don't think we are the highest power on the planet.
IFC: Do you think that influences your work and your performances?
MCDOWELL: No. No. It doesn't in any way, shape, or form. I'm a professional actor. If that were the case, I would never play a murderer or anyone that was immoral. That's not my call. An actor cannot be a censor. I'm there to interpret. And I don't have a personal view on the stuff. I don't make judgments on the characters I play at all. Otherwise, I wouldn't be able to play them if I did.
IFC: Yeah, the film doesn't seem to hammer you over the head with the religious aspects of it.
MCDOWELL: You're right. Of course it is a very religious film. At the end of the day, that's their audience, but I think it's a crossover because I think anybody can enjoy this film.
IFC: You got to slap a lot of people in the film. Did that feel good?
MCDOWELL: (Laughter) Yeah, sure. Why not? (Laughter)
IFC: You've been in so many great films in so many genres. Is there anything you particularly want to do next?
MCDOWELL: No, there isn't because, honestly, you can only take what you're offered and it's best not to jump ahead. Otherwise you're going to be disappointed and disillusioned. I just take it as it comes and if I'm not offered something, there's always a reason, and usually it's a pretty good one. I'm not worried about it. You know, I've had an incredible career and I'm blessed. Yeah, it's been peaks and valleys, but when you start off with "If…," "A Clockwork Orange," and "O Lucky Man!" there's only one place to go from there. I'm very happy. Very happy.
You can see Malcolm McDowell playing Satan in "Suing the Devil" On Demand and Digital Download now.