Luke Wilson talks "Meeting Evil" and working with Samuel L. Jackson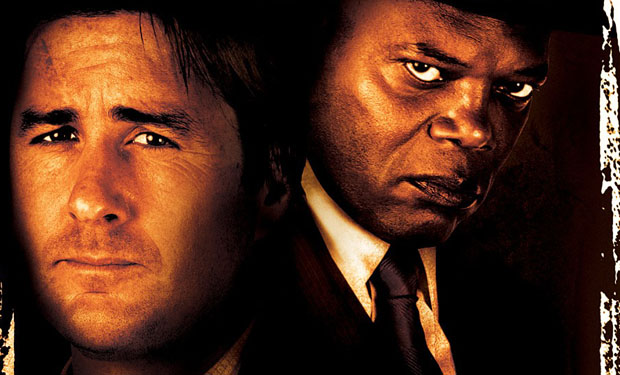 Posted by Rick Marshall on
Luke Wilson has made a career out of playing nice guys swept up in a sea of wild characters, but in "Meeting Evil" his nice-guy character meets an entirely different sort of wild element — one that puts a dark spin on what a nice guy is capable of when pushed to the brink.
IFC spoke to Wilson about the new film, which he stars in alongside Samuel L. Jackson, who plays the mysterious, sinister stranger who takes a downtrodden salesman (Wilson) on a deadly journey.
"As a movie-goer, I like all kinds of movies, so I always appreciate the chance to do different stuff," said Wilson of breaking from his usual comedic roles for this moody, tense thriller. "Of course, as an actor, I feel like I can do pretty much anything but a musical, so it's always nice to get asked to do things that people don't immediately think of me doing — something like this, which is more of dark, film-noir movie."
"There were so many years when I was first starting out that I didn't think about it," he explained. "I was just trying to stay busy and make a living. People would say, 'Hey, you sure play a lot of boyfriends.' [Laughs] I didn't even think about it then, but eventually I was like, 'Wait, am I doing that too much?' I'm really just doing whatever comes my way and trying to stay busy and get better at what I'm doing. It's nice, though, getting older and being able to do different roles."
Over the course of his career, Wilson has appeared in films alongside Gene Hackman, Bill Murray, and a host of other celebrated actors. With "Meeting Evil," he adds Jackson to that impressive list — something that isn't lost on the actor. Fortunately, he had a good idea of what to expect from his co-star.
"It's funny, because Sam and I had actually gotten to be friendly before 'Meeting Evil,'" he said. "George Lopez had gotten us to play in a golf tournament, so me and George and Sam played as a team at this tournament in Palm Springs. We wound up winning it together, but it was one of those things where I didn't take it that seriously, but Sam was pretty intense about it. I was thinking I'd just play golf to have fun and be outside, but it became one of those things where I was like, 'God, I have to concentrate, because Sam really wants to win this thing!' So we became friends doing that."
"Working with him, he's one of those people who reminds me of Gene Hackman in terms of how much an icon he is, and I'll get worried about a lot of different things," he confessed. "I'll be worried about being too much in awe of him, or being able to just be in the moment, because some of those guys, you can't believe you're standing there with them. He's just incredible to work with. I love how much he works and how intense he is. He's one of those people who likes to know everything about what he's working on."
And like any good thriller, "Meeting Evil" develops in a slow boil that leaves its audience guessing right up until the closing credits. Given some actors' preference to not know any narrative surprises that await their characters (so they can react more authentically), IFC asked Wilson how he approaches stories with a twist.
"I have to read the whole script ahead of time, yeah," he said. "I've heard Woody Allen movies are like that, though, where you get handed the pages the day of filming. That would be interesting to do, but I've never really done it."
"I've worked on movies that are being rewritten as you go, but you take so long and so much time doing it, that it's not really an issue knowing what's going to happen or how the movie is going to end," he added. "Working with somebody like Sam, you're just in the moment. And having a good director is helpful to keep track of the story and build up the tension."
Still, Wilson said that doing a film like "Meeting Evil" definitely flexes different acting muscles than the comedies he's been doing for so much of his career.
"I definitely notice it doing a movie like this, or any movie that's more serious and has emotions," he explained. "It's fun to work on a good comedy, because you're in a good mood and the goals are always very clear for the movie and day-to-day, scene-to-scene. You're just trying to do something that's funny, whether you think it's funny or the director or the other actors or people on set. For lack of a better term, it's instant gratification."
"Something like ['Meeting Evil'], though, you just have to be confident in yourself and what you're doing because it's not as clear-cut," he continued. "When you're doing something that's supposed to be scary or filled with tension or emotion, you just have to do the best job you can, and that's really all you can hope for. You have to tell yourself that sometimes things will feel a little stagnant, but you have to remember that there are all these other elements that will add to it."
"Meeting Evil" is available now via On-Demand video, and will arrive in theaters May 4.