Luke Wilson talks "Anchorman 2" and hopes for "Old School" sequel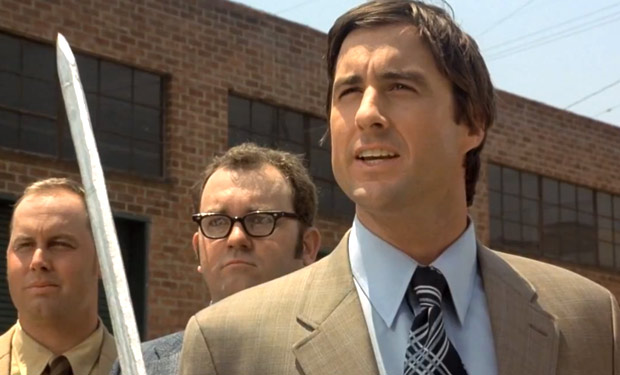 Posted by Rick Marshall on
San Diego's favorite scotch-drinking newsman is returning to the big screen for "Anchorman 2," but what about his competition over at Channel 2?
IFC recently spoke with actor Luke Wilson about his new movie, "Meeting Evil," in which he plays a downtrodden salesman who has a deadly encounter with a mysterious stranger played by Samuel L. Jackson. When asked what he thought of Will Ferrell's announcement that a sequel to "Anchorman" was in the works, Wilson offered up some thoughts on the potential return of his character in the film, Channel 2 lead anchor Frank Vitchard, who was last seen getting his remaining arm ripped off by an angry bear.
"Somebody just told me [about the sequel] last week," Wilson told IFC. "I didn't know about it, but I'd love to do it. But then I remembered, 'Oh yeah, I lost both my arms in the last one.'"
"So who knows? I hope they bring me back," he laughed.
Asked why the prospect of another "Anchorman" outing was so appealing, Wilson recalled the day he filmed the memorable brawl between rival news teams in the 2004 comedy — a scene that featured him alongside Ferrell, Vince Vaughn, Ben Stiller, and Tim Robbins.
"That was a really funny day of work, just to look over and see Will, Vince, Ben Stiller Tim Robbins…" he said. "It was such a weird mix of people. You're in a great mood all day, and you leave thinking that it will be really funny. I really love doing stuff like that, and it would be fun to do that again."
As for what sort of role his character might play in a sequel, Wilson was at a loss.
"I have no idea," he said. "That would just be really funny. Will and Adam [McKay] are so funny that hopefully they write me in there."
"I might have to remind them," he laughed.
Given all the talk of sequels, IFC asked Wilson which of his own films he'd most like to return to for another chapter. After all, with a long list of leading roles on his resume, there's a lot to choose from.
"God, it would be really fun to do something with Will and Vince again like 'Old School,'" he said. "I think that was what 'The Hangover' basically was, but they couldn't really get 'Old School 2' going. But that would be really fun."
"And I always like working with Owen [Wilson] and Wes Anderson," he added. "There's nothing we could do a sequel of, but it would be nice to put that whole gang back together."
Keep an eye on IFC.com for more from our "Meeting Evil" interview with Luke Wilson. "Meeting Evil" is available now via On-Demand and will hit theaters May 4.
Would you like to see more "Old School" or another Wes Anderson movie with Luke and Owen Wilson? Chime in below or on Facebook or Twitter.