"Lockout" stars Guy Pearce and Maggie Grace talk stage combat and science-fiction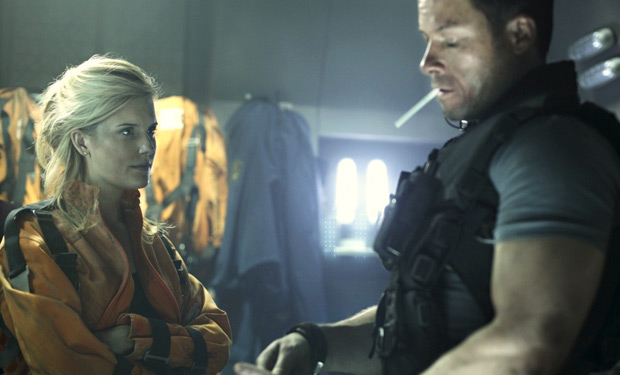 Posted by IFC on
By Jennifer Vineyard
The new Luc Besson sci-fi movie "Lockout," which takes place in the year 2079, is less "The Fifth Element," more "Die Hard" in its sensibilities — Guy Pearce plays a wisecracking action hero tasked with saving the President's daughter (Maggie Grace) during a prison riot (and did we mention the prison is in space?). The two have a punchy relationship — literally, since their first few encounters involve inflicting each other with various forms of violence. (In one scene, she gets a syringe in her eye).
"It reminded me of Hans Solo and Princess Leia," Grace told IFC, "the snarky, combative relationship between the two."
The usually lean Pearce had been a bodybuilder when he was a teenager and bulked up 50 pounds for the part of Snow, but he was worried about his fight scenes with Grace. "I'm always very conscious of the physical stuff," he told IFC. "And not to suggest that women aren't as strong as guys, but Maggie's a gentle creature, and I was nervous about doing some of the stuff I have to do to her. I mean, when I was punching her, I was nervous I was going to take her out!"
Pearce needn't have worried, at least as far as Grace was concerned . But for his own sake? That's another story. "I had to punch him," the actress said. "And we were very careful. You have to pre-measure the punch. You have to sell it. You're not supposed to make contact. But I shifted, and I accidentally made contact and hit him! So he was nervous he'd hit me, but really, I hit him."
Grace's punch was but one of many injuries Pearce suffered on set, and not usually from stunts. He estimates that he incurred at least one injury per week, from "some stupid thing, like tripping on the end of a table," or pulling a muscle. In one scene, he was supposed to fire a gun while crawling through a low tunnel, but the bullet casing ricocheted and went down the back of his shirt, burning him.
"So they have me on film going, 'Agh! Agh!'" he laughed. "That's probably going to be on the DVD. The good thing was, I was in such a highly adrenalized frame of mind, that each time I hurt myself it was just like, 'What? Another injury?' And then you kind of move on."
Most of the action takes place in a contained space, the prison MS One, where 500 criminals kept in stasis wake up and revolt. There is a bit of discussion about the effects of deep space exploration on the human body via the medical experiments performed on the prisoners, but despite being in outer space, the sci-fi is kept to a minimum.
"Even though it's a dystopian future, it's not just sci-fi," Grace said. "It's unabashedly entertaining."
"We're not really delving into the ideas that are seemingly real but also seemingly far-fetched," Pearce said.
Grace predicted that back on Earth, though, the people of 2079 would have had all sorts of fun gadgets that we've seen in films so far, but haven't realized in our timeline. "Where are our hovercrafts, damn it?" she demanded with a laugh. "They promised them, and they're not there. Where is it all? The X Prize is at least proposing a tricorder, so we're going to get that at least. 'Star Trek' is solving at least one of our problems."
Grace admits to being a tech geek, which is how she originally came across Pearce's TED talk, in character as Peter Weyland from "Prometheus," from the year 2023. Strange coincidence, she agreed, that the cryo-stasis experiments in "Lockout"'s 2079 are supposed to the lead to the kind of deep space exploration that happens in "Prometheus" in 2085, just a years away. "But they're not connected just because Guy's in both of them," she laughed.
Pearce wouldn't — or couldn't — confirm that his Weyland actually takes part of the Prometheus expedition, albeit at the ripe old age of 95 (or thereabouts). But, he agreed, "you would think" that his character would want to, and "you would think" that he could, if he wanted to, given that the Weyland Corp. are the financial backers. "What does he say at the end of the TED lecture?" Pearce said. "I'd like to change the world.' That should establish what he's up to."
While Pearce will be busy promoting "Prometheus" this summer, and Grace will have her own fantasy movie later this year ("The Twilight Saga: Breaking Dawn Part 2," in which she plays the vampire Irina) , but she joked that she and Pearce should reteam on the HBO series "Game of Thrones," just because she's "addicted" to the show. Regrettably, she thinks she lacks the right kind of citizenship. "Can only British actors and Europeans and Australians do it?" Pearce asked her. "They don't use Americans," she said, forgetting about Peter Dinklage, despite saying just seconds before, "Peter Dinklage is amazing."
"She worked abroad illegally and they found out so now she can't ever work abroad again," Pearce teased.
"We could do a marriage of convenience," she offered, also forgetting Pearce's wife. "And then we could be on the show because you have the right passport."
"Is that a proposal?" he asked.
"Maybe. Maybe."
If not that, they'll settle for a "Lockout" sequel, if it's funny and Pearce doesn't have to bulk up again. "Let's do a tropical planet," he suggested. "If we can have some say next time, we should be on holiday somewhere."
"Lockout" opens in theaters today.
Are you excited for the new space prison action movie? Tell us in the comments below or on Facebook or Twitter.