Catching up with 2012 Subway Fresh Artists finalist Libby Klein from "The Loop"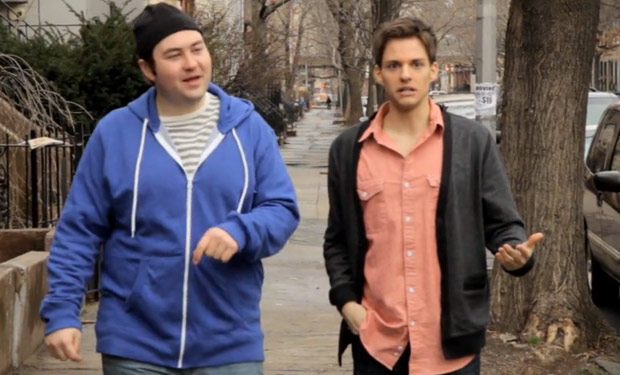 Posted by Brian Jacks on
If the world is going to end in 2012, then Libby Klein suggested that it might happen at the end of a Subway sandwich: in "The Loop," her entry in Subway's Fresh Artists™ Filmmaker Series competition, two young men discover an unexpected – and hilarious – nexus in time and space when they accidentally create duplicates of themselves while devouring breakfast at their local sub shop.
Klein, the project's producer, helped her fellow collaborators put together "The Loop" for the competition, which enlisted aspiring filmmakers to create a web series that incorporates their sponsor. IFC recently spoke with Klein about where the idea for "The Loop" originally came from, and about the challenges she endured and lessons she learned in the process of participating in the competition.
video player loading
.
.
.
Watch the rest of "Frat House Musical" and learn more about the SUBWAY Fresh Artists™ Filmmaker Series by clicking here.
---
IFC: Just to get started, talk about how you first became aware of the contest and then how you and your collaborators came up with an idea that you thought would be appropriate or suitable for it.
KLEIN:NYU Stern has a student-run group called Promotion Pictures. And every year Promotion coordinates a collaboration between the business school where I attend, the film school, and this year also the Interactive Media School. So in past years they've [involved] a new sponsor for a new contest similar to what we did with Subway this year; although, with Subway it was a much bigger contest. So I heard about it through Promotion Pictures 'cause they are the ones that really like go out and reach out to the students and kind of work — and did all the organization. And so that's how I heard about it.
IFC: How did you and your collaborators come up with an idea that you thought would be well suited to the competition?
KLEIN:As the producer I wasn't that involved in the idea creation. My team originally came up with a script that had to do with he end of the Mayan calendar and I looked at that script and had many comments and was like, I don't think this is really going to work with what our sponsor wants and I don't think it works with the medium. And instead of kind of reworking that concept they came back to me with the current script and I was like, "Great, I love this. Let's do it." And but it just, the concept in general it was like fresh, it was young, it seemed like it would — it matched like the target audience that Subway is trying to reach. And we just thought it would be like fun and exciting to shoot. We also thought it would be, it was like right on the edge of what we thought kind of technically we should do with the budget that we had and we wanted to push the budget as far as we could.
IFC: What were the specific challenges that you had to undertake for this because of maybe working at a scale that was different than what you had done in the past.
KLEIN:Well, before this I was a reality television producer and I also produced and directed media for political groups, so there were many challenges. I've never been in charge of such a large budget and so much hiring, so like balancing the creative demands and our budget was really a challenge, but a great opportunity.
IFC: How much did you have to think about Subway in the process of incorporating them in to the existing story that you guys had?
KLEIN:Our story wouldn't have existed without Subway. It wasn't like we had a story and then tried to adapt it to Subway. Like it evolved together with the concept of Subway, so from the beginning we wanted to have Subway in each of the episodes. We tried to have Subway in the episodes with a little bit of humor around it, and then our characters start in Subway in the first episode. In the second episode, there's more just allusions to it and in the third episode they go back to it.
IFC: Was this dramatically different than other stuff that you had done in the past, or given the sort of experiences you previously had, it was actually not that much different?
KLEIN:It was different in that my role was different. As a reality TV producer, I wasn't on the budgetary side. I was on the more creative and daily logistical side. So although the budget was definitely was smaller for this than it is for a reality show, this is the first time I've been in charge of it.
IFC: How indicative do you feel like this particular project is in terms of what you want to maybe do going forward?
KLEIN:This is exactly what I want to do going forward. I'd like to do both episodic and single production, whether it's movies or one-hour television shows, but this is a great opportunity to try the things that I had not done before. And in addition to the web series we also produced a mobile app for Android that's coming out. So for me it was also an amusing experience to have more projects with super deliverables, and really working in expanding the story world that we created in the episodes to a separate app — and trying to figure out how you do that. And how you manage the production and how you manage resources I think will be part of my career going forward, and it was another great opportunity.
IFC: What are you working on now?
KLEIN:Right this moment I'm looking to get a job for the summer producing or working in production or development.
IFC: Ultimately what do you feel like you took away from this experience that you feel like you'll take with you to new jobs, or that could be applicable to your future career?
KLEIN:Well kind of like I said this is pretty much exactly what I'd like to be doing in the future, producing narrative content. So going forward I've been looking for new things and I'm glad [the series] is in my pocket, to say, "Here's an example of something that I produced and here's what I can do and how I did it and I think I'm ready for a bigger budget."
IFC: What through this process do you feel like maybe was the sort of most important lesson that you learned?
KLEIN:I guess it's harder to manage a team than I expected. It's important that you communicate with everyone and express expectations as early as possible, or then that's usually what happens. But also I guess that it's okay to have a little conflict and resolve it.