Get your first look at Leonardo Dicaprio and co-stars in Quentin Tarantino's "Django Unchained"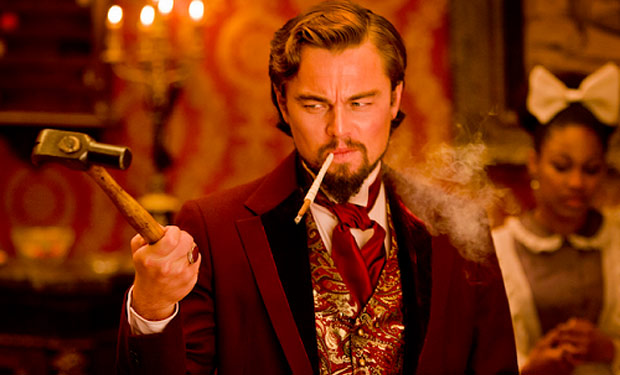 Posted by Aubrey Sitterson on
Yes, this summer sees the release of two humongous superhero movies in the form of "The Avengers" and "The Dark Knight Rises," but my most anticipated movie of the year remains "Django Unchained." Now, with our first look at the actors in character, I'm more excited than ever about Quentin Tarantino's new flick.
The first two photos bubbled up to the surface via Entertainment Weekly alongside quotes from the film's star, Jamie Foxx. The magazine has the actor explain that the film will be extremely controversial, describing his character as "Richard Roundtree meets Clint Eastwood." The comparison is an apt one, as Tarantino's latest outing combines elements of both Blaxploitation cinema as well as the spaghetti westerns that made Eastwood famous, as the director describes the film as a "southern," a type of revenge flick that confronts the ugly reality of slavery head-on.
The new photos reveal Jamie Foxx alongside his traveling partner, a German dentist-turned-bounty hunter played by Christoph Waltz. The two join forces, with Waltz's character Dr. King Schultz agreeing to help Foxx's Django rescue his wife (played by Kerry Washington) if he in turn helps the bounty hunter kill his quarry and former owners, the Brittle Brothers. The second photo shows off one of the film's villains, Calvin Candie, played by Leonardo DiCaprio. Candie runes a plantation known as Candie Land, where slaves are groomed to fight one another for sport, and also has Django's wife in his possession.
What do you think about the new "Django Unchained" photos? Tell us in the comments below or on Facebook or Twitter.