The John Carpenter 8-bit tribute album is pitch perfect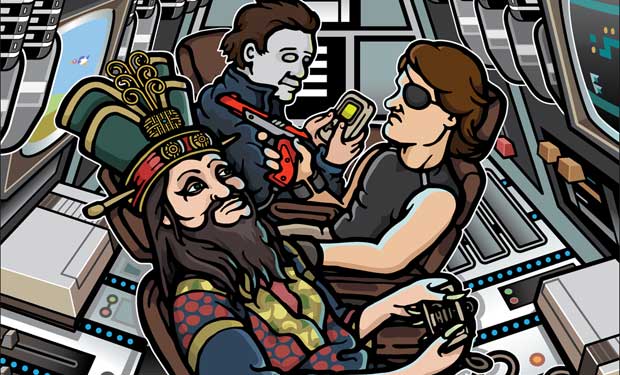 Posted by Will Weinand on
If there's one thing that pretty general knowledge , it's that the staff of the IFC FIX are pretty big fans of John Carpenter. Known for writing and directing some of the defining sci-fi and horror films of the 70's and 80's, Carpenter's resourceful approach to making his movies included working with minimalist lighting, unique mixtures of low-tech camera work and composing his own soundtracks on his collection of synthesizers. It's from that innovation that the inspiration came for the awesome new tribute album from the artists at Pterodactyl Squad.
I first found out about the Pterodactyl Squad netlabel when they released their 8-bit tribute to Weezer a couple of years ago, a chip-tune collection that made me wish that the band had their own videogame along the lines of "Journey Escape." The John Carpenter tribute album, titled "It's All In The Reflexes" (a quote from Kurt Russell's Jack Burton in "Big Trouble In Little China"), does an incredible job of channeling Carpenter's lo-fi genius, EvilWezil's cover of the theme from "Escape from New York" being a personal favorite. Having an album cover featuring Michael Meyers, Snake Plissken and Lo Pan chilling out with classic NES consoles pretty much seals the deal. Maybe now someone can finally go back and fix the score for the Atari 2600 "Halloween" game.
You can download the entire album for free, along with lots of other great music at their website now. In our opinion, it's a-number one!
What's your favorite John Carpenter movie? Tell us in the comments below or on Facebook or Twitter.