James McTeigue says Occupy protestors using "V for Vendetta" masks "got the film"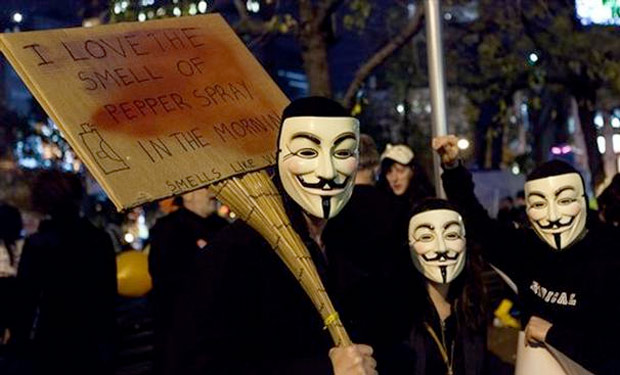 Posted by Terri Schwartz on
When the Occupy protests started popping up around the country–and the world–last year, there was one face that many were surprised to see present: Guy Fawkes.
During the protests, people started wearing the Guy Fawkes mask popularized by the 2006 film "V for Vendetta." While some protestors likely wore it to align themselves with the beliefs held by 17th century protestor Guy Fawkes, others said they felt "V for Vendetta" is very relevant with the problems facing our country today.
IFC had the chance to catch up with "V" director James McTeigue while he was promoting his new movie, "The Raven," and we couldn't resist asking him what he thought of the use of the Guy Fawkes masks during the Occupy protests.
"I think they got the film," he said. "The graphic novel was more about the individual, and very consciously I made the film about the mask, or about the populous, if you like. So when I saw all those people in the masks, I thought it was great. The film talks about a lot of things, obviously, but you know that is a big part. The questioning of government in your life and whether government is truly, in a democracy, representing you. You know, it also talks about the morality of terrorism and what makes a terrorist, but yeah, I liked it. I would have to say I was all for it."
McTeigue said that anyone making a film hopes that it becomes part of the public conversation. To see the Guy Fawkes masks used in such a widespread way was a great honor to him as a filmmaker.
"I think there's so much cultural noise now. When you make a film, you hope you'll make some sort of slight impact, imprint, along the way. To see the 'V' masks slip into the cultural vernacular, if you want, I thought that was great, because ultimately it was what the film was about," he said. "It was about questioning government. It was about questioning whether the voice of the people is actually the voice of the people, and whether you ever get true representation."
He continued, "I think there were a couple of generations there that were completely non-politicized, and I thought this was the rebirth of people being politicized. And I think the mask, in a weird way, gave them a chance to protest again, or gave them a chance to have a voice. They could be anonymous behind the mask and be unified. I think anything that gets people out into the street and they feel like they can protest and be protected by the mask, and I think that was great, actually."
I must admit that I absolutely adore "V for Vendetta" and consider it one of my favorite movies. I said as much to McTeigue, and he said that it's nice to see the film has had continued success since its release six years ago.
"It's always really nice to hear feedback on that movie," McTeigue said. "It took a while for people to come round to it, but I'm really glad that so many people like that movie now."
He acknowledged that "V for Vendetta" was probably one of the best experiences a first-time director could have making a movie, and it helped that he had worked with the Wachowskis on their successful "The Matrix" trilogy.
"I was really glad I got to make it in the climate that I got to make it. It would be hard to get a film like that through the studio system these days, so it's one of those things you get to do on the back of working on movies that have made a lot of money," he said with a laugh.
Were you surprised that people were using Guy Fawkes masks during the Occupy protests? Do you think "V for Vendetta" still resonates today? Tell us in the comments section below or on Facebook and Twitter.