Getting to know "Harvey Pekar's Cleveland"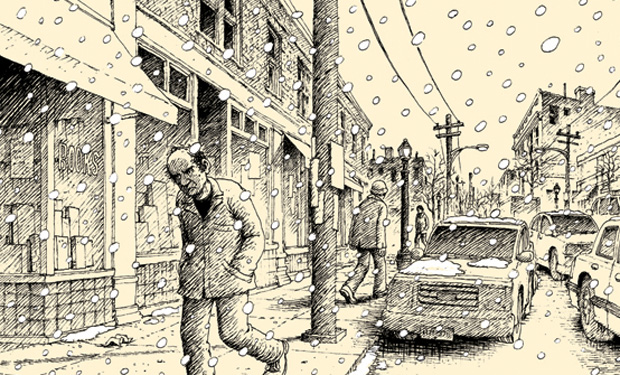 Posted by Rick Marshall on
The comics world lost one of its greatest creators in July 2010 when American Splendor author Harvey Pekar passed away at age 70. Given the veteran writer's prolific output over the course of his long career, it's no surprise that one of his last projects is just now hitting shelves — and like so much of Pekar's work, it's another labor of love that adds another notable chapter to his legacy.
Co-published by ZIP Comics and Top Shelf Productions, Harvey Pekar's Cleveland offers a look back at Pekar's lifelong home, as seen through his eyes and his meticulous research into the Ohio city's colorful history. Juxtaposing the city's ups and downs against those of his own life, Pekar created Cleveland as both an ode to his favorite city and a personal exploration of the good times and bad that he and his hometown have weathered.
"I'm coming to appreciate the city more and more every year," Pekar's widow, Joyce Brabner, told IFC. "This was a chance to do something larger in the way [Harvey] wanted to do it, and he was pretty excited about it. He was always happy about it. Coming from an immigrant family, he had a real appreciation for where his family ended up and the life they made here."
Brabner, who collaborated with her husband on many of his books (including the award-winning Our Cancer Year) and was a driving force behind much of his mainstream success in the comics world, said Pekar made a strong case for the city from the very first day they met. At the time of his death, he'd finished the script for Cleveland and had already looked over the first batch of pages from the book's artist, Joseph Remnant.
"For a minute there, I didn't know if they were going to want to follow through with it," Remnant told IFC. "But Joyce really wanted to see this book through, because it's a love letter to Cleveland and I think she really wanted that part of Harvey to be out in the world. He gets a negative rap sometimes for being a grumpy old man, and this book is more of a positive look at his life in Cleveland and what he wanted to do with the rest of his life – and he was excited about that."
Remnant had previously collaborated with Pekar on The Pekar Project, an online comic for Smith magazine edited by Jeff Newelt – who also served as the editor for Harvey Pekar's Cleveland. While Remnant was accustomed to Pekar's unique approach to scripting comics, he said that the importance of Cleveland to the 70-year-old writer was clear right from the start.
"Normally he would do it like you see in the American Splendor movie – he'd draw little squares and draw himself in, with a speech bubble above him," explained Remnant. "But for this, he would retype it all up and include a lot of notes about what he would want to see in the box."
The final product of their efforts is as much a textual journey through Cleveland and Pekar's life there as it is a visual tour, thanks to Remnant's illustrations.
"Joseph is such a perfect artist and we were so lucky to get him," said Brabner. "He saw Cleveland the way Harvey saw it. It wasn't a foreign country to him."
Brabner hinted that this won't be the last of Pekar's books to be published posthumously, either. Among the projects likely to hit shelves in the future are two books they were working on together, including a book about their marriage.
"Luckily, those were books are like Our Cancer Year, which I steered and helped with," she said. "The day he died, we were working on a book about our marriage together. This was just a couple hours before he died. We were resting in a really good place and were feeling great about it. The ball had been tossed back to me for more work."
"I wasn't able to pick that stuff up until this January," she continued. "I got out of town for a little while, because Cleveland is pretty gray around that time, and I was eventually able to pick it up and start working on it again."
This week, Brabner will join Remnant, Newelt, and artist Dean Haspiel (his collaborator on the 2005 graphic novel The Quitter) for a tribute to the author at New York City's famous bookstore, The Strand. With Harvey Pekar's Cleveland arrival on shelves this month, the event also serves as a release party of sorts, though Pekar's presence there will be sorely missed.
"Harvey planned to keep working and working and working, because he couldn't imagine himself not working," said Brabner.
"I think Harvey was really talented at writing about what he appreciated, and a lot of that was musicians or bookstore owners or people who were in Cleveland," added Remnant. "Anybody who really knew Harvey from his comics or anything else, knew how much he really loved Cleveland and how much Cleveland was a part of him."
Harvey Pekar's Cleveland is available now from ZIP Comics and Top Shelf Productions.