Tim Grierson on the Great Films Already Released This Year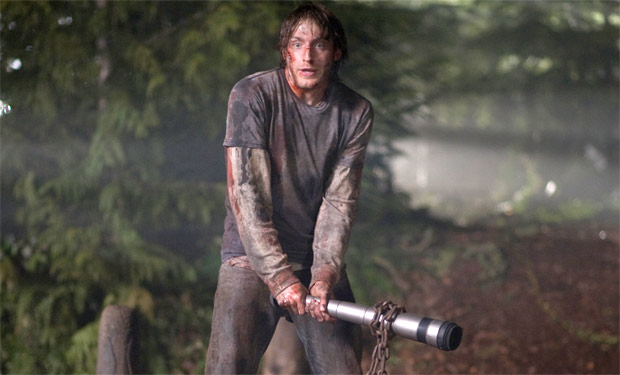 Posted by Tim Grierson on
In a couple weeks, "Marvel's The Avengers" comes out, which heralds the beginning of the summer movie season. That also means the end of the first portion of the film year — the part that people don't like all that much. As opposed to the fall (when all the serious Oscar contenders open) and the summer (which is a haven for blockbuster action films), the early part of a new year is normally filled with films that are either being dumped by their studio or aren't quite big enough to warrant much excitement. Sure, you've got your Valentine's Day date-night movies and your major animated offerings — and, this year, the massive hit "The Hunger Games" — but the pre-summer calendar tends to get overlooked, especially late in the year when people are making their Top-10 lists.
But before "The Avengers," "Men in Black III" and the rest lay waste to the multiplex, I'd like to point out that there actually were several great movies that have already come out this year. They may not have made it to your town, unfortunately, but they're definitely worth seeing when they land on DVD.
On the mainstream side, you've got "The Cabin in the Woods." For pure smarts and narrative ingenuity, the horror-comedy directed by Drew Goddard and written by Goddard and Joss Whedon took a potentially one-joke idea — which I won't reveal in case you don't know yet — and elevated it into something clever, thoughtful and consistently engaging. But that wasn't the only superb wide release thus far in 2012: Though a disappointing underperformer commercially, director Steven Soderbergh's "Haywire" will probably be better than most of the action movies we get this summer. Starring MMA fighter Gina Carano, the thriller was all giddy, kinetic fun as a government operative has to break a lot of skulls to figure out who double-crossed her. Soderbergh has made deeper, more "important" films, but "Haywire" has a level of craft that makes it expert escapism.
Released by Paramount Vantage in a limited number of theaters, "Jeff, Who Lives at Home" demonstrated again why writer-directors Jay and Mark Duplass ("Cyrus") are such a valuable American filmmaking team. Dismissed by some critics because of its jokey surface, the comedy follows the super-positive loser Jeff (Jason Segel) as he goes through a seemingly normal day, only to discover that there are some cosmic coincidences taking place. Though the Duplass brothers can overdo their indie-cred bona fides — the shaking camera is awfully irritating — this is an unexpectedly graceful and generous look at lives that are out of balance. The whole cast is great, but Susan Sarandon is especially wonderful.
A very different brother tandem, acclaimed Belgian writer-directors Jean-Pierre and Luc Dardenne, returned with another sterling offering, "The Kid With a Bike." The Dardennes, who previously made such gems as "L'Enfant" and "La Promesse," tell the story of an angry, abandoned young boy (Thomas Doret) failing to reconnect with his absent father, which forces him to rely on the sympathy of a local hairdresser (Cecile de France). The Dardennes prefer spare, unsentimental stories about rudderless people trying to find some direction, and even if "The Kid With a Bike" isn't among their very finest works, it's a beautiful and moving film that could be a great gateway drug for the uninitiated. If you've never seen any of their movies, try this one — and if you like it, by all means explore their earlier output.
Turkish director Nuri Bilge Ceylan isn't well known in the States, but his latest film, "Once Upon a Time in Anatolia," is highly recommended to those who love their detective stories as unconventional as possible. In this atmospheric drama, a collection of men — including a prosecutor and a detective — travel by car through the night with some unsavory criminals who have confessed to a murder. The only problem is that the killers can't remember where they buried the body in the vast countryside, putting in motion a tense and occasionally strangely comic search for the corpse. When the film premiered at the Cannes Film Festival last year, it was compared to director David Fincher's meticulous, brilliant "Zodiac," another procedural about how a crime slowly affects all those who cross its path. I wouldn't put "Once Upon a Time in Anatolia" at that level of masterpiece, but for the adventurous filmgoer, it's a gorgeously shot, emotionally troubling experience.
As you may have noticed, some of 2012's best films have been foreign-language offerings, and I'd like to conclude with two more. The first is the terrific documentary "This Is Not a Film," which chronicles the house arrest of Iranian filmmaker Jafar Panahi, who in December 2010 was given a six-year jail sentence. (In addition, the government wouldn't allow him to give interviews or make films for 20 years.) "This Is Not a Film" points its camera at Panahi, who's stuck in his home coming to terms with the enormity of his sentence. It's a fascinating slice-of-life portrait of an artist who has been stripped of his ability to communicate with his audience — but who finds a way regardless.
That brings us to my favorite movie so far released this year. It's "The Turin Horse," from Hungarian director Bela Tarr. Slowly making its way around the country — it'll be in Chicago in May — this austere, absolutely absorbing film dramatizes the harsh 19th century existence of an old man (Janos Derzsi) and his daughter (Erika Bok) who live in a cottage in the middle of nowhere. With very little to eat and surrounded by harsh winds and a desolate landscape, the two seem doomed. And so Tarr takes us through an eventful week in their lives — eventful not because a lot happens, but because the filmmaker's slow, careful examination of these characters hints that something truly and terribly tragic is about to befall them. With its harsh, demanding tone, "The Turin Horse" is probably not the sort of film you'll be wanting to see with "The Avengers" about to arrive. But the ambition and audacity of Tarr's film, which reportedly will be the last one the 56-year-old director will ever make, is heroic and momentous in its own way. The first few months of a new film year tend to be filled with the forgettable. Hopefully, my list suggests that a few great movies managed to slip through the cracks.
Do you have a favorite film already released this year? Let us know in the comments below or on Facebook or Twitter.